Muppet team create puppets for BBC One game show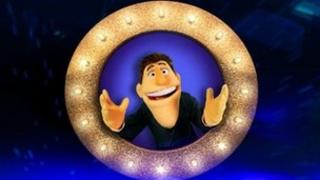 Puppets are to put celebrities on the spot in That Puppet Game Show, a new Saturday night programme created for BBC One by the team behind The Muppets.
The programme will be hosted by Dougie Colon - pronounced cologne - with each of the individual games run and hosted by a different puppet character.
Gary Lineker and Jonathan Ross will be among the celebrities competing to win £10,000 for their chosen charities.
The show, a co-production with The Jim Henson Company, debuts later this year.
Part of the programme will take the form of a backstage sitcom featuring the on-stage puppets and show executive Udders McGhee.
Claudia Winkleman, Katherine Jenkins and former cricketer Freddie Flintoff are among the other non-puppets lined up to appear.
Last year the BBC announced it was working on a pilot episode of the programme, which then went under the name No Strings Attached.
Broadcaster Danny Baker subsequently confirmed he was one of the writers on the show, described as "a warm, cheeky, family affair fuelled by a healthy dose of off-the-wall, madcap fun".
The original Muppets TV show ran on ITV from 1976 to 1981, with the likes of Kermit the Frog, Miss Piggy and The Great Gonzo among the regular cast.
The much-loved characters made a big-screen comeback in 2011 and are set to return next year in another feature-length adventure.