Warning over Arts Council funding cull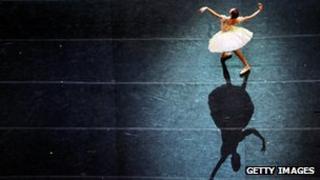 Theatres, galleries and other cultural bodies are being warned that Arts Council England (ACE) could drastically reduce the number of organisations it funds if its budget is cut.
The Arts Council has said a 10% decrease in its budget could force it to remove regular funding from hundreds of organisations.
It stressed the figures represented "early thinking".
The warning is being given in briefings to arts bodies across England.
ACE is telling them a 10% cut to its budget may force it to cut its roster of regularly funded organisations from 696 to around 300.
The organisation would also have to rely more on National Lottery money to supplement its government grant.
The figures have led to concerns that smaller venues would be jettisoned at the expense of larger institutions.
'Worst case'
An ACE spokesman said it represented a "worst case scenario" and that smaller bodies would not be disproportionately affected.
ACE chief executive Alan Davey said: "These sessions with our National Portfolio Organisations and major partner museums are open conversations that we have with our funded organisations, to give them an idea of what issues we could be dealing with.
"It's important to remember that the modelling presented is just that. It doesn't represent what we would do in reality.
"What we do know is that the arts and culture enrich peoples' lives and contribute to economic recovery. Cutting this would damage the UK's vibrant cultural scene and could cause economic decline within this vital part of the creative industries."
The warning comes as Chancellor George Osborne prepares to set out his latest spending plans in the Comprehensive Spending Review at the end of the month.
Culture Secretary Maria Miller is currently negotiating with the Treasury over her department's settlement. She was recently reported by the Financial Times to have refused to agree to any cuts.
A reduction to the Department for Culture, Media and Sport's (DCMS) budget would, in turn, be likely to result in cuts to the Arts Council.
The DCMS has asked ACE to model for 5%, 10% and 15% cuts for 2015/16.
ACE had its budget cut by the department by 30% in 2010, followed by smaller cuts in subsequent years. The Arts Council has already halved its own administrative costs.
A spokesman for the DCMS declined to comment.
A recent Arts Council report showed that the arts get less than 0.1% of public spending but deliver four times that in gross domestic product.
Marcus Romer, artistic director of York-based Pilot Theatre, said the sector was a rare part of the economy that was in growth, but that it was "in choppy waters".
"There is a point where you cut away and cut away and cut away at the tree. And at some point, that final cut will make that tree fall over. That's the situation we're in at the moment," he said.
"We're not just bleating luvvies. This is about people who are working in creativity, innovation and education, delivering extraordinary events, experiences and opportunities for participation and social cohesion. That's what we do.
"And if you take that away, it has a knock-on effect across all departments. So Maria Miller has the opportunity to seize this moment and stand up for the sector."