Call to improve disabled gig ticketing, seats and booking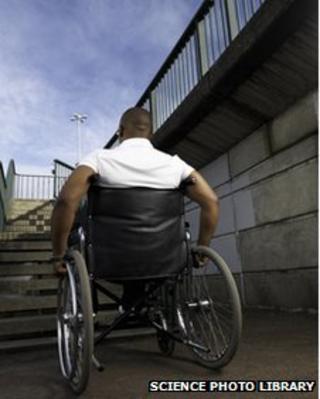 Disabled people trying to buy gig tickets sometimes have to "wait hours" on "premium rate telephone lines" and are often seated separately from family and friends, a study has suggested.
Some have even missed out on concert or festival tickets because venues have delayed accepting proof of disability.
Muscular dystrophy campaign group Trailblazers carried out the study into ticketing and disabled access at gigs.
They will meet MPs and live music industry representatives on Wednesday.
The group, which campaigns on social issues affecting disabled people, also criticised major ticketing websites for failing to offer the option to book accessible tickets online.
James Lee, 25, from east London, said he recently missed out on tickets to see Radiohead because of the booking process.
He said there was often only a telephone line for disabled fans which was "oversubscribed, expensive and time-consuming" and called for access to online booking "like my non-disabled peers".
Catherine Alexander, 22, from the Wirral, told the survey she was forced to sit away from her friends at concerts, owing to a lack of seating choice available at her local arena.
She said: "I felt really isolated, as if I had gone to the gig on my own.
"I don't go to this arena any more because of this issue, but thankfully I'm lucky to live near to another arena which has much better provision for wheelchair seating."
Trailblazers says it wants the live music industry to "level the playing field".
'Impossible to move'
The campaigners, a 500-strong group of disabled 16 to 30-year-olds, intend to discuss ways to resolve the issues facing young disabled music-lovers with the MPs and industry representatives.
"We have heard from many young disabled people who describe their experience of getting tickets... as an absolute nightmare," said Trailblazers' project manager Bobby Ancil.
"They also continue to be frustrated by inflexible company policies that separate disabled music lovers from their friends and family at a show."
The study surveyed 500 disabled young people and received 100 responses.
Respondents described being asked to leave venues before the show ended to "avoid disruption" for other customers, and said it was sometimes "impossible to access refreshments and toilets owing to poorly located seating".
Wheelchair user Zoe Hallam, 22, from Bristol, added that "crowds and poor access routes to bars and toilets mean it is impossible for me to move around the venue once the gig has started".
Many venues list their accessibility information online, and more than 50 have signed up to a charter for best practice on the Attitude is Everything website, which is working with the music industry to improve disabled access to live music.
Criteria include accessible toilets, accessible booking and a "2 for 1" ticket scheme. Venues are rated gold, silver or bronze, depending on their facilities.
A spokeswoman for Ticketmaster told the BBC it worked hard to offer "the best possible service for customers with accessibility requirements".
She said the company offered two options for buying tickets - either an online booking sent to their "dedicated accessibility team who will contact customers directly to discuss their needs" or an 0800 freephone number.
"In particular, an accessible ticket can quite often include a free carer ticket," she said, adding Ticketmaster understood situations where "some customers require the need for more than one carer, or that customers may want to sit near to other family members or friends who are attending the same event, and we try to accommodate this where possible".
The company had a responsibility to "ensure that these priority tickets are not fraudulently accessed," she added.
'Everyone uses same number'
Ticketmaster has also worked with specialist organisations, including Attitude is Everything, to "ensure we are providing the best possible service for our customers with accessibility requirements" and welcomes any feedback which would lead to a better service.
A spokesman for ticketing company Ticketline told the BBC: "We are not responsible for the organisation of any event, we sell tickets on the venue's behalf.
"We do not use premium rate lines - everyone rings up using the same number - and we do not ask for proof of disability. When people turn up, it is clear that they are disabled. If we do get any complaints about accessibility at venues, we feed them back to the venues."
A spokeswoman for the Musicians' Union also told the BBC it had worked closely with Attitude is Everything with regards to venues and accessibility.
The BBC is awaiting comment from Academy Music Group, a major owner and operator of live music and club venues.
The National Arenas Association, a forum for managers of concert venues with a minimum indoor seated capacity of 5,000, was unavailable for comment.