Stars gather for Michael Winner memorial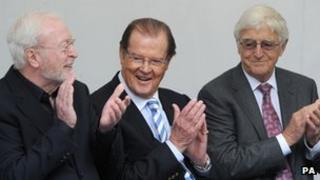 Sir Roger Moore and Sir Michael Caine were among the stars who attended a memorial service for the film director Michael Winner on Sunday.
Winner's wife Geraldine was also joined by broadcaster Sir Michael Parkinson for the ceremony, at the National Police Memorial in central London.
Winner set up the Police Memorial Trust following the death of police officer Yvonne Fletcher in 1984.
Sir Roger said it was "a very fine and noble" act.
About 100 people gathered in St James's Park to witness the unveiling of a plaque in Winner's honour.
Cilla Black, Bernie Ecclestone, Carol Vorderman and Celia Imrie were among those invited.
Sir Michael Caine said he had known Winner - who died in January this year at the age of 77 - for 53 years.
He described meeting him for the first time: "He was the kindest, nicest, most gentle person you could think of - and that is where I was completely wrong.
"He was the most miserable son-of-a-bitch once you got to know him, and I didn't understand why he did it.
"He was testing you, and he always tested people to see how far you would go before you disliked him," Sir Michael explained.
"And I said to him, 'Michael, you can go as far as you like with me. I will never dislike you. Do you understand that?'
"And he said, 'Yes, I've got it.'"
Over his career, Winner directed more than 30 films, including Death Wish and Scorpio.
He was also famous for his barbed restaurant reviews, written for The Sunday Times under the banner "Winner's Dinners".