Friends reunite for Seth Rogen's This Is The End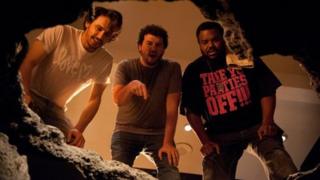 Armageddon is no respecter of film star status in Seth Rogen's apocalyptical comedy, This Is The End.
It features a multiple celebrity cast including Rogen, James Franco, stand-up comic Danny McBride and Superbad's Jonah Hill, plus cameos from Emma Watson, Channing Tatum and Rihanna - but the body count piles up as the end of the world draws nigh.
The premise, says Canadian actor Rogen, "was one of the weirder emails that I've sent out - 'Hi, would you like to come and film in New Orleans, play a horrible version of yourself, and then die?' And they all said yes."
The actors are credited as "themselves" and the plot centres around a party at Franco's house in the Hollywood Hills - when the apocalypse suddenly strikes.
The main characters barricade themselves inside, in the hope of survival. Outside, there are rivers of fire, Jurassic monsters and a 20ft (6m) devil waiting to devour them. Inside the mansion, on top of cabin fever, Watson is roaming around with an axe and McBride is eating all the supplies.
This is 31-year-old Rogen's feature film directing debut - which he co-wrote and directed with Evan Goldberg, his writing partner and producer on hits like Knocked Up, Superbad and Pineapple Express.
Childhood friends
The pair, he explains, have written scripts together since they were teenagers growing up in Vancouver, "so any row we were ever going to have was over and done with by the time we were 16. We work together very well."
Although humanity's final doom is a popular choice for filmmakers this year - World War Z and Simon Pegg comedy The World's End are also released this summer - Rogen says the idea for This Is The End was first put forward nearly eight years ago.
"I think the end of the world will always be fashionable. Even before Roland Emmerich tackled the Mayan prophecy about the apocalypse with 2012, you had films like Independence Day," he says.
"For us it's something we've been working on for years and it's sheer coincidence that we were able to finally get it together around the date the Mayans predicted the world would actually end.
"The more of these movies that are out there and already exist, the easier it is to make a comedy poking fun at these kind of conventions, to some degree."
For a long time, he adds, he and Goldberg were "obsessed with the idea of actors playing themselves, and what that would look like".
"We based it on a short film we made with our executive producer Jason Stone, called Seth and Evan versus The Apocalypse. We shot in two days what we thought was the biggest thing we could do with the lowest budget, which was, 'the apocalypse is happening, but these guys will not leave the room they are locked in.'
"And that is pretty much what you see now."
'Apatow stable'
Rogen adds that part of the reason the film was years in the making "was getting all these actors and a singer like Rihanna in the same room in New Orleans at the same time. You can imagine - it was difficult."
Since first shooting to prominence in director Judd Apatow's 2005 comedy, The 40 Year Old Virgin, Rogen has been part of the so-called 'Apatow stable' of young Hollywood comedians.
While films he's starred in such as Pineapple Express and Knocked Up have been highly lucrative, Rogen declares that he was "grateful and shocked" to be given the financial backing to make This Is The End. It cost around $30m (£19.6m) to make, but has reaped that back at the box office since opening.
"Ultimately, it is a film featuring many of our friends in a house, and it is quite rude and offensive, so I'm surprised anyone wanted to let us make it," Rogen says.
"That's why we asked all our friends to do it - everyone is playing such a warped version of themselves, but they had a lot of fun either playing the way they're perceived in public, or else completely subverting their image.
"We didn't enforce their characters, we let them come up with what they were comfortable with. I think every single person we asked to do it, did it, and then did something far more extreme than we could ever have imagined."
Watson, who has described the story as "the most absurd premise for a movie ever - I had to do it", is singled out by the director for putting in one of the best comic cameos of the film.
"With Emma, we could have asked Mila Kunis, but we really wanted someone who doesn't turn in the same circles as us. We thought it would be funnier to have her there, as you'd never expect it.
"Having said that, you do go to weird parties in Hollywood and random people turn up. But Emma was extremely funny to work with. "
'Original concept'
While a film starring only friends of the director could be viewed as self-indulgent, reviews for This Is The End have been mainly positive. Rolling Stone magazine said "it's so good you'll think you've hallucinated it", while Scotland's Daily Record added, "this is not a film for the easily offended. Some may brand it puerile, let them do so."
After being released with a restricted 'R' rating in the US, it will have a 15 rating for its UK release.
"Most of our films have that kind of rating," notes Rogen, "and I think the language was the least of our problems in the final edit, but this is the way we talk to our friends.
"I don't think we keep trying to out-gross or out-joke the movies we've done before. We think of it in terms of what entertains us. I think it's a dangerous game to start playing, thinking 'what does the audience want, is this going to be shocking to them?'
"This movie is full of some of my greatest creative moments so far. In some ways it's the most original concept we've had - the apocalypse coupled with actors playing themselves."
Thirty million dollars, he admits, is nowhere near the budget needed for a large special effects film, but says: "I think we managed. It's large in scale, we destroy the whole world.
"We had never made a movie like this before, and as directors Evan Goldberg and I didn't expect to be spending so much time in dark rooms, debating lasers for hours on end.
"Really, at the end of the day, it's about characters and the message of the movie is very much about redemption. As silly and disgusting as they are at times, I honestly think that's why our movies have not been shunned because they do have messages about friendship and honesty.
"We're not trying to moralise however, even if we do mention the Biblical Book of Revelation a lot in the film. This version of the end of the world could be about natural disasters, it could indeed be Armageddon, it could be aliens. It could even be Roland Emmerich who's responsible."
This Is The End is on general release now.