Zach Braff cast in Bullets Over Broadway stage adaptation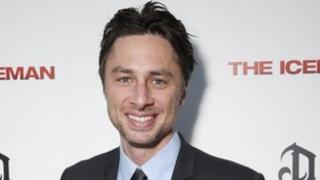 US actor Zach Braff will make his Broadway debut next year in a musical adaptation of Woody Allen's Oscar-nominated film Bullets Over Broadway.
Braff will play the hero, aspiring playwright David Shayne, as portrayed by John Cusack in the 1994 film.
"It's thrilling," said Braff, adding: "I keep waking up expecting it to be a dream."
Braff previously appeared Off Broadway in Paul Weitz's play Trust at Second Stage Theatre.
His own play, All New People, also had its world premiere there.
Written by Allen and Douglas McGrath, Bullets Over Broadway follows Shayne, a struggling playwright who is forced to cast a mobster's talentless girlfriend in order to get funding for his latest work.
The Broadway version - adapted by Allen - will include popular songs from the 1920s. It will be directed and choreographed by Tony Award-winner Susan Stroman.
Other cast members include Grease stage show star Helene Yorke, as the talentless girlfriend, and Vincent Pastore, best known for his portrayal of Salvatore Bonpensiero in The Sopranos, as the gangster-turned-producer.
The role of theatrical diva Helen Sinclair, which won Dianne Wiest the best supporting actress Oscar, has yet to be cast.
Dream job
Braff, who played day-dreaming Dr John Dorian in the TV comedy series Scrubs, previously worked with Allen when he played his son in the 1993 comedy, Manhattan Murder Mystery.
"If you would have asked me a couple months ago 'What are your dreams as an actor?' I would have said, 'I'd love to do a Broadway musical one day and I'd love to work with Woody Allen again.'
"When I got the call from Woody and Susan Stroman, my head sort of exploded," he said.
Braff's latest screen role was in Sam Raimi's film, Oz the Great and Powerful.
He recently used the crowd-funding site Kickstarter to raise $2m (£1.3m) to fund his film, Wish I Was Here, the follow-up to his cult 2004 film Garden State.
The movie, which he co-wrote with his brother Adam, is due for release in 2014.