Grease and Lady and the Tramp animator Wilson dies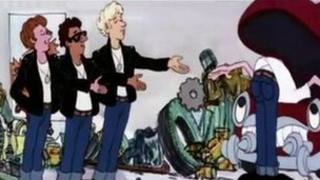 John David Wilson, the animator, producer and director whose work included the opening credits to Grease and Lady and the Tramp has died at 93.
The British-born artist, who also worked on Mickey Mouse, Donald Duck and a Stravinsky ballet died in a Blackpool nursing home, Hollywood Reporter said.
In 1955, Wilson formed Fine Arts Films, which produced the 1978 Grease sequence featuring caricatures of its stars John Travolta and Olivia Newton-John.
He also worked on Disney's Peter Pan.
Fine Arts Films produced and directed the animated short Tara the Stone Cutter, an adaptation of a Japanese folk tale, and an animated version of Stravinsky's Petrushka ballet.
Bombing attack
Stravinsky himself conducted the score for the ballet, which was performed by the Los Angeles Philharmonic Orchestra. It went on to become the first animated film accepted by the Venice Film Festival and won six international festival awards.
Born in Wimbledon, London, in 1919, Wilson studied at the Royal College of Art and worked as a commercial artist with Willings Press Service.
But in 1939 he was called up by the London Rifle Brigade to serve in their African campaign.
Two years later he lost a leg in a bombing attack in and recovered in a Cairo hospital, passing the time by drawing cartoons, some of which were published.
He was discharged from the army and returned to the UK in 1944, working at a London art agency and then at Pinewood Studios.
Oscar-winning film
After working on films including David Lean's Great Expectations and The Thief of Bagdad, he went on to join GB Animation on a venture for British artists, financed by J Arthur Rank, owner of film company Rank Organisation. Rank was keen to challenge the dominance of Disney.
Wilson and several other artists were tutored by former Disney animation director David Hand, who had worked on Snow White and Bambi.
By 1950, Wilson had taken a job in the US with Disney, where he worked on Peter Pan, the Oscar-winning short Toot, Whistle, Plunk and Boom in 1953 and Lady and the Tramp in 1955.
He also worked for Hanna-Barbera's The Flintstones and Mr Magoo as well as joining Bob Hope's 1953 United Service Organizations tour to entertain troops in Korea.
He spent hours drawing caricatures for the fighting men and visited hospitals, according to the Fine Arts Films website.
Wilson also created the groundbreaking Journey to the Stars for the Nasa Space Pavilion at the 1962 World's Fair in Seattle.
The 15-minute colour film was projected on a hemispherical 360-degree, 75-foot screen and was seen by an estimated seven million viewers.
Music video pioneer
The following year Fine Arts Films also did the trailer for Billy Wilder's romantic comedy Irma La Douce. According to the company, it was the first Imax presentation.
Wilson also created five-minute animated music videos for tracks including Joni Mitchell's Big Yellow Taxi and Jim Croce's Bad, Bad Leroy Brown. They were broadcast on The Sonny & Cher Comedy Hour in the 1970s, long before music videos became commonplace.
The artist was also a painter in oils, watercolours and pastels whose work has hung in the Summer Exhibition of the Royal Academy of Arts in London.
A member of the Academy of Motion Picture Arts and Sciences, he was a founding member of ASIFA Hollywood, the association behind the Annie Awards, which celebrate animation.
In 1995, he returned to England and retired in St. Annes-on-the-Sea in Lancashire. Over the past four years, he suffered from dementia.
Wilson died on 20 June and is survived by his wife, Fabian, children David, Debbie, Michael, Victoria, Peter and Andrew and several grandchildren and great grandchildren.