Authors urged to engage with local bookshops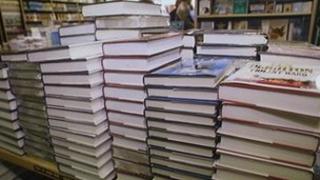 Writers have been urged to do more to help independent bookshops struggling to survive on the high street - by paying them a visit.
"There's a gap in the market," Anne Sebba, the chair of the Society of Authors, told a literary gathering in London on Wednesday.
Writers should "engage not just with their local bookshops, but bookshops all over the country that perhaps have some relevance to the book they've written."
Her comments came during a debate at the Southbank Centre entitled The Perfect Storm: Why Bookshops are in the Frontline in the Battle for the High Street.
It was the key event of Independent Booksellers Week, which ends on Saturday.
Sebba acknowledged that online retailer Amazon was "here to stay" and that there was "no point in making people feel guilty about buying on Kindle".
But she said people were more likely to buy a book in a shop after they had met an author in person "because they feel they know you, they are taking away not just the book, but a bit of you."
Also on the panel was novelist Kate Mosse, who said she had "deliberately" targeted independent booksellers for the promotional tour of her paperback release of Citadel.
"It doesn't matter whether my books are bought on Amazon, or in Tesco, or an independent bookseller, in terms of my role as an author and wanting people to read," Mosse said.
"But as a reader, and someone who lives in a small town... having bookshops at the heart of our communities - brick and glass buildings - says that we as a nation think books matter."
A survey held to mark Independent Booksellers Week found that nearly two thirds (63.5%) of shoppers admitted to browsing in a bookshop and buying the product online - a practice known as "showrooming".
The results showed that book purchasing behaviour varied with age, with younger respondents "feeling guiltier" than older shoppers (60% of 16-24-year-olds compared to 39.6% of 55+ year-olds) about using bookshops as showrooms.
The survey, commissioned by The Booksellers Association, questioned 2,045 UK book buyers.
The research, carried out by Censuswide, also found that almost 60% of shoppers said recent revelations about internet-only booksellers' tax affairs made them less likely to shop for books online.
And 88% of British book buyers were concerned that there were fewer bookshops on the high streets than five years ago.
Meryl Halls, of the Booksellers Association, said the survey results "show a mixed picture about the consumer book-buying market".
"Bookshops are among the many high street retailers to be hit by the new concept of showrooming and it's interesting to see the moral divide between the older and younger generation.
"But showrooming is just one of a variety of pressures bookshops are facing, with other issues such as rising rents, high business rates, lack of town centre parking and the unfair tax arrangements of multinationals, also playing a role.
"Bookshops are demonstrating ingenuity and creativity in reaching their customers but are having to fight tooth and nail to remain commercially viable."
According to BA figures, 73 independent bookshops closed on the UK high streets last year, while 39 new shops opened.
The total number of independent bookshops in 2012 was 1,028, compared to 1,424 in 2007.
While no children's bookshops were reported closed in 2012, a high profile casualty this year has been Richmond's Lion & Unicorn bookshop.
It announced last week that it was to close in August after 36 years of trading.
"In recent years our rent has increased to the point where it is now unsustainable and with another rent review due to take place, the decision has been made to terminate our current lease as from August 2013," said its owner Jenny Morris.
Roald Dahl had been the guest of honour at the shop's opening in 1977.