Placido Domingo treated for blood clot in his lung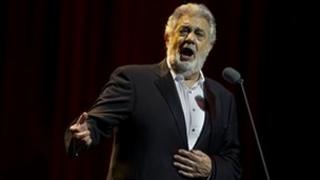 Grammy Award-winning opera singer Placido Domingo is being treated in a hospital in Madrid for a blood clot in his lung.
The 72-year-old is expected to make a full recovery but has been forced to cancel several concerts in July.
His agent, Nancy Seltzer, said the embolism was the result of deep vein thrombosis.
"Per his doctor's instructions, he will be forced to rest for three to four weeks," she said.
"His exact return to his performing engagements remains subject to how fast he can heal and regain his characteristic strength."
The singer has cancelled five performances in Daniel Catan's Il Postino, due to begin at the Teatro Real in Madrid on Wednesday.
A concert he was to conduct in Madrid's Plaza Mayor square on 21 July has also been cancelled.
"The Teatro Real wishes to express its enormous regret for the great Madrid tenor's illness and to send him its best wishes for a quick recovery," the Spanish theatre said in a statement.
It is not the first time Domingo has received treatment for a serious medical condition.
In 2010, he had a cancerous polyp removed from his colon after becoming ill while on tour in Japan, returning to the stage five weeks later.
Domingo, who gained worldwide recognition for his Three Tenors performances with Jose Carreras and Luciano Pavarotti, made his operatic debut in a leading role as Alfredo in Verdi's La Traviata in Monterrey, Mexico, nearly five decades ago.
He has performed 134 stage roles - a number unmatched by any other celebrated tenor in history.
He is due to appear at the Salzburg festival and at the Verona opera house in August.