Post-Olympic arts festival plan dropped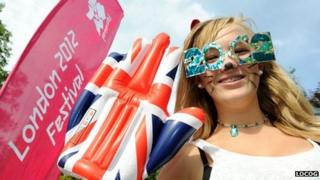 A plan to hold a UK arts festival every two years to follow on from the 2012 Cultural Olympiad has been dropped.
Former Culture Secretary Jeremy Hunt suggested a biennial festival on the back of the £127m arts programme that ran alongside the London 2012 Games.
He said the festival could "celebrate the best of what we have culturally".
But the government said the Cultural Olympiad Board did not include the biennial idea in its recommendations for securing the best future legacy.
Former Cultural Olympiad director Ruth Mackenzie said the idea was not included because it was rejected by Mr Hunt's successor, Maria Miller.
The Cultural Olympiad included a nationwide bell-ringing event, an inflatable Stonehenge and a string quartet performing in helicopters.
An Arts Council England report concluded that 177,000 events led to "over 43 million public experiences" of the Cultural Olympiad.
Two days after the London 2012 Olympic Games closed last August, Mr Hunt said he wanted to "capitalise on the successes we have achieved in developing cultural tourism".
"How can we build on this? One promising idea is to have a London Biennale - a bi-annual London or UK-wide arts festival to celebrate the best of what we have to offer culturally," he said.
He asked Ms Mackenzie and Cultural Olympiad chairman Tony Hall - now director general of the BBC - to submit a report into how it could be established.
A spokesman for the Department for Culture, Media and Sport (DCMS) said: "The Cultural Olympiad board was asked to consider feasible proposals to maximise the legacy of the Cultural Olympiad including the possibility of a biennale-style event."
Many initiatives that began during the Cultural Olympiad have continued, and a new advisory group has been formed to "advise on future opportunities for national cultural programmes", the spokesman pointed out.
But he added: "A proposal for a biennale event was not put forward in the board's final recommendations to the secretary of state."
Mr Hunt was replaced by Ms Miller at the DCMS last September.
Ms Mackenzie said the incoming culture secretary decided against the biennale plan, instead choosing to continue the legacy of the Cultural Olympiad by commissioning artists to create major new works for the World War I centenary from next year.
"Wonderfully, I don't think Maria Miller would have done that if it hadn't been for London 2012 Festival persuading her that high-level artists are a good way to commemorate things of national importance," said Ms Mackenzie.
"That's a great legacy - it's not the same as the biennale idea, but it has the same ingredients in that the values are rooted in some of the achievements of the London 2012 Festival."
The DCMS spokesman denied that Ms Miller rejected the biennale plan in favour of the World War I artistic commissions.