Holly Willoughby's The Voice dress cleared by Ofcom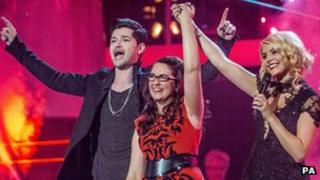 Ofcom has said it will not investigate BBC One's The Voice following complaints Holly Willoughby's low-cut dress was unsuitable for the show.
Some 30 viewers complained to the media regulator about the presenter's outfit worn during the finale of the singing competition last month.
Another 139 people complained to the BBC over the issue.
A spokesman told the BBC News website after assessing the complaints it decided not to formally investigate.
The BBC apologised last month to viewers who were offended by Willoughby's black lace dress after it received the initial complaints.
"We're sorry if some viewers found Holly's dress to be unsuitable," it said in a statement.
"Holly enjoys fashion and we felt the dress she wore for the live final of The Voice UK was glamorous and wholly appropriate for the occasion."
Some 7.24m viewers watched the live final, which was won by Andrea Begley.