The Voice judge Danny O'Donoghue to leave BBC show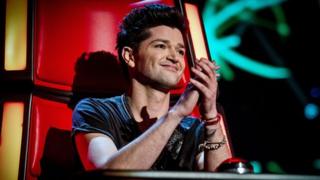 Singer Danny O'Donoghue will not return as a judge on BBC One's talent show The Voice, he has announced.
The Irish front man, who won the competition this year with partially-sighted singer Andrea Begley, follows Jessie J's recent departure.
"I gave it my heart and soul and couldn't be more proud of the show," he said in a statement.
It has not been confirmed whether Sir Tom Jones and Will.i.am will stay on as the remaining judges.
Previously, all four coaches had said they would only reprise their roles if if they could continue doing it together.
BBC controller Mark Linsey said O'Donoghue was "an absolute star" but understands he has to focus on his music career.
"The Voice coaches are all current music stars with recording and touring careers to manage alongside the show and we know this can be difficult to juggle," he added.
The Script's latest album #3, which was released in September 2012, reached number two in the UK album chart.
"My focus will be on The Script moving forward as we are about to embark on the most important part of our career as a band," O'Donoghue said.
The BBC said that the full coaching line up for the forthcoming series will be announced in due course.