Rembrandt Laughing at risk of leaving the UK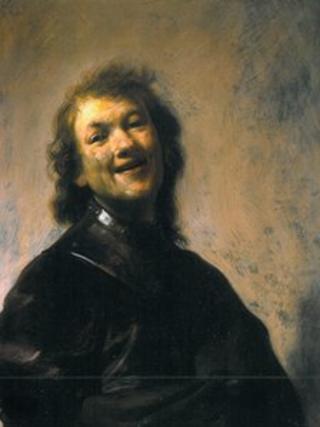 A painting by Dutch master Rembrandt has been placed under an export ban as attempts are made to find £16.5m to keep it from leaving the UK.
Rembrandt Laughing, painted in around 1628, was bought at auction by the Getty Museum in Los Angeles this May.
Culture Minister Ed Vaizey said he deferred granting an export licence due to the "outstanding significance" of this example of Rembrandt's early work.
The application licence has been deferred until 15 October 2013.
"I hope that my deferral of the export licence will allow time for a buyer to come forward and secure this exquisite painting for the nation," Vaizey added.
Getty Museum director Timothy Potts told the LA Times that the museum hoped to add "lustre" to their collection with Rembrandt's "most sustained and remarkable achievement".
The artwork, one of only a handful of paintings made on copper, is thought to be a self-portrait of the 17th Century Dutch master.
But the picture, known as a "Tronie", is thought to have been painted to depict an emotion rather than the likeness of a particular person.
The small image was valued at £1500 pounds in 2007 by a small auction house in Cirencester as it was not believed to be a Rembrandt original.
It was later sold at auction for more than £2.2m to an anonymous buyer after a frantic bidding war.
Ernst van de Wetering, head of the Rembrandt Research Project, confirmed the painting as a genuine painting in a 23-page analysis nine months later.
"Brush stroke, contour, materials and the monogram all point to the master's hand," he said at the time.
The highest price paid for a Rembrandt at auction was £20.2m for his Portrait of a Man, Half-Length, With His Arms Akimbo in 2009.