Only Fools and Horses producer Ray Butt dies aged 78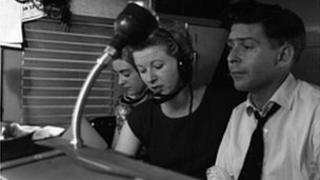 Only Fools and Horses producer Ray Butt, who is credited with casting Sir David Jason as Derek 'Del Boy' Trotter, has died at the age of 78.
Butt and Only Fools and Horses writer John Sullivan developed the idea for wheeling dealing Del Boy and hapless brother Rodney while at his local pub.
They worked on five series of the show as well as Just Good Friends.
Butt also produced and directed episodes of Last of the Summer Wine and Are You Being Served?
'Diamond geezer'
John Challis who played Boycie in Only Fools and Horses has paid tribute to Butt, calling him the man who put him "on the ladder".
Butt was "a chippy little diamond geezer" who got on with everyone and had a "dogged determination to time the laughs exactly right!," he added.
Challis recalled one of Butt's most memorable lines to him was during the early days of filming when he told him: "You may not be the best actor we've got, but you're certainly the cheapest!"
Butt was instrumental in David Jason becoming Del Boy. He came up with the idea but had to fight for him to audition.
Butt and Sullivan became friends when Butt directed episodes of Citizen Smith, Sullivan's first BBC comedy.
According to Steve Clark, the author of Only Fools & Horses - The Official Inside Story, Butt told him they were instant friends.
Butt had said: "The first good thing was we had similar accents - John is an South London boy and I'm an East London boy so we kind of spoke the same language."