UK films claim 15% of global box office in 2012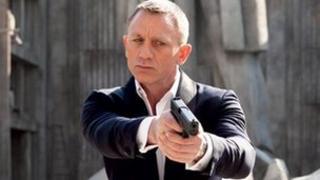 The UK's share of the global box office fell last year, despite the international success of James Bond film Skyfall - Britain's highest ever grossing film.
The British Film Institute said UK film releases took $5.3bn (£3.45bn) in 2012 - a 15.3% share of the world market.
The figure was almost 2% down on 2011's 17.2% share.
Skyfall accounts for $1.1bn of the UK's tally, a tenth of which came from its record-breaking takings in the UK.
The film took £103m in the UK and Ireland to make it Britain's highest grosser.
The higher market share in 2011 can be partially attributed to the success of the final Harry Potter film, Harry Potter and the Deathly Hallows Part 2, and Oscar-winning hit The King's Speech.
Overall though, the 15.3% share is the third highest on record and is more than twice the lowest 6.8% share claimed in 2009.
Amanda Nevill, the BFI's chief executive, said UK films had "captivated" audiences in 2012 and that Skyfall - the 23rd official Bond title - had "spearheaded another strong year for UK film internationally".
"Our yearbook shows film's continued importance to the UK economy overall, with a record turnover of £7.7bn and trade surplus of £1bn in 2011."
For the first time the over-45s represented the biggest proportion of cinema-goers in the UK, with 36% visiting the big screen compared to 25% from the 15-24 age group.
The BFI report cited the rise in films aimed at an older audience, such as the The Best Exotic Marigold Hotel starring Dames Judi Dench and Maggie Smith, as a contributory factor.
"The studios are very aware of who their audiences are," said Tim Cagney, the BFI's deputy chief executive.
"They see the demographic is changing, and it will see a response in the movies that are released."
The global box office hit a new high of $34.7bn in revenue in 2012.
The UK's market share of $5.3bn was down on 2011, in which UK films accounted for $5.6bn of the $32.6bn global theatrical market. But it was still more than any other year since the BFI's records began.
Independent films - titles released without the backing of a major US studio - also achieved success on the world stage.
Chiefly among them were The Best Exotic Marigold Hotel and The Woman in Black, which made $135m (£88m) and $128m (£83.4m) respectively at cinemas worldwide.
The BFI's 2013 Statistical Yearbook can be read in full here.