'Lost' Orson Welles short films recovered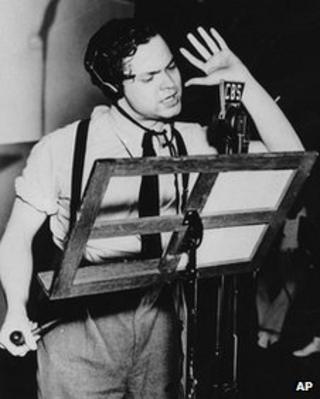 Footage shot by Citizen Kane director Orson Welles in 1938 has been restored after being discovered in a warehouse in north-east Italy.
The footage, originally intended to be screened during a staging of the 19th Century comedy Too Much Johnson, will finally be premiered in October.
The films were intended as prologues to each act of William Gillette's three-part farce but were never finished.
It had been thought the only known print was destroyed in a fire in 1970.
None of the three short films have survived intact, however.
The longest piece of footage shows a womaniser, played by Joseph Cotten, chased across Manhattan by a husband he has wronged.
Welles' Mercury Theatre company eventually staged Too Much Johnson without the shorts at the Stony Creek Theatre in Connecticut in August 1938. It was not a success.
Later that year Welles broadcast his radio adaptation of HG Wells' The War of the Worlds, famously believed by some listeners to be an actual report of a Martian invasion.
It is not known how the Too Much Johnson footage came to be in the city of Pordenone, which annually hosts a festival of silent film.
The 35mm nitrate work print was restored by film exhibitors Cinemazero, who worked in conjunction with George Eastman House and the National Film Preservation Foundation (NFPF) to preserve and restore it.
The results will screen at the Pordenone Short Film Festival on 9 October and at Eastman House in Rochester, New York one week later.
According to Welles' biographer Simon Callow, the shorts represent "a very significant missing piece in the jigsaw of Welles's art".
"It will tell us an enormous amount about his visual sensibility and indeed about his theatrical instincts," said the British actor and writer.