BBC Proms mix urban and classical music for first time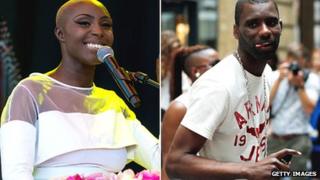 For the first time in its history, the BBC Proms is bringing together classical music with urban artists at the Royal Albert Hall later.
The Urban Classic Prom will see a BBC orchestra accompany artists including rappers Wretch 32 and Maverick Sabre.
Soul singer Laura Mvula, who is classically trained, said: "It's totally surreal for me, it's such an occasion to play with the orchestra."
The event will be broadcast live on BBC Radio 1, Radio 3 and 1Xtra.
It will fuse musical styles, including high-octane pieces by Alexander Mosolov and Hans Werner Henze, with rap, R&B and soul.
Each act will be backed by the full BBC Symphony Orchestra, conducted by Jules Buckley, who has created new arrangements for each of the night's pieces.
Chart newcomer Mvula was number four in the BBC's Sound of 2013 list and has since released an acclaimed debut album, Sing To The Moon, and played on Glastonbury's Pyramid Stage.
She graduated from Birmingham Conservatoire with a degree in composition and performed at age 14 with the School Proms.
"When we recorded Sing to the Moon, it was in a small studio in Acton and we used six string players and just layered them to make this orchestral sound," she said, speaking at the show rehearsals at BBC's Maida Vale studios.
"I never really imagined I would be doing this with a full sized symphony orchestra, at least at this point, so its something quite special for me to take part in."
'Open ears and minds'
Buckley says the concert is also a big challenge for the classical musicians.
"The remit for us was like a remix," he says.
"Rather than just having the orchestra as a backing group or wallpaper, we want them to have this remix element which brings them to the front as balanced artists alongside the MCs."
He insists the evening is not just about converting younger fans to orchestral music, but expanding the tastes of hardcore Prommers.
"I hope they enjoy it," he says. "They have to approach it with open ears and open minds and take what they want from it. I'm not expecting everyone to love i."
Tottenham-born rapper Wretch 32 admits he has very little experience of the Proms but says the new arrangements of his songs, including top five hit Traktor, "feel mad epic".
"It takes it to the next stratosphere. It makes it feel so classic and really movie-like. It's definitely different from what I'm used to."
He adds that playing the Royal Albert Hall is a dream come true for most artists.
"I think anything other than a suit on that stage is uncivilised so I'll be dressed to kill, James Bond style."
The Urban Proms are the latest evidence of the annual festival's attempts to connect with younger audiences, already seen in the successful Doctor Who Proms, which attracts families and sci-fi fans of all ages.
Wretch 32 agrees that, for young people, classical music still carries a stigma - "but it just takes a few things, a few events like this, to get people's ears around it.
"When you hear classical musicians playing what you're used to hearing and it sounds better, it will definitely engage with people."
Rapper and music producer Fazer, best known for as one third of N-Dubz, has also worked with a group of young musicians who will perform at the event.
As with all Prom concerts, 1,400 £5 tickets will be available at the box office on the day.
The Urban Proms will be shown on BBC Three from 2100 BST.