The Great British Bake Off's 'freezing' problem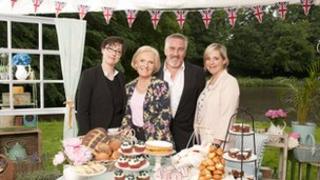 Mel Giedroyc, co-host of The Great British Bake Off, has revealed how the cast and crew struggle with the cold while filming the show.
The show is shot in the Spring in a specially-constructed tent and Giedroyc told the Radio Times that it was "freezing" and their "main concern" was to keep judge Mary Berry warm.
"She had four thermal layers on and two water bottles down the trousers."
The Bafta-award-winning baking show is in its fourth series.
Last week's first episode was seen by a million more viewers than last year's series opener.
Overnight figures showed 5.6 million watched the BBC Two programme, up from the four million who tuned into the first episode in August 2012.
Giedroyc said that as the years have gone on they have found more ways to keep warm.
"This year we discovered these marvellous heated belts called 'hot trusses'. I was a big fan. They keep your stomach in as well, which is useful as the series goes on."
Giedroyc, who presents the show with Sue Perkins, admitted she struggles to resist the baked goods that the contestants create each week.
"I've put on a good 11 pounds every series," she said. "The first couple of episodes it's 'No thank you, not for me'. Cut to the semi-final and we're hoofing up whole quiches."
She also revealed that her daughters take on the role of Mary Berry and fellow judge Paul Hollywood in her home.
"My daughters have become little judges. If I do produce a baked item, they tut at the soggy bottom and advise me to try harder next time."