Simon Callow recognised for outstanding contribution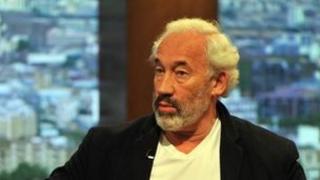 Actor and director Simon Callow is to receive an award for outstanding contribution to British theatre at this year's UK Theatre Awards.
Callow, 64, made his stage debut at the Edinburgh Festival in 1973.
Since then, he has directed more than 30 productions and worked with the Royal Shakespeare Company, the National Theatre and in London's West End.
He will tour the UK this year in a revival of Francois Billetdoux's comedy Chin-Chin with Felicity Kendal.
Rachel Tackley, president of the Theatre Managers' Association said she was "delighted" to give Callow the award.
"[He] has had a vital and lasting influence on theatre stages all over the country and been a great ambassador for British theatre during a long and illustrious career," she added.
Callow is known for his one-man plays, including a version of Charles Dickens' A Christmas Carol, The Importance of Being Oscar and Inside Wagner's Head, which he performed earlier this year at the Royal Opera House's Linbury Studio; and The Man Jesus at the Lyric Belfast.
As well as stage work, Callow has appeared in many popular films, including Four Weddings and a Funeral, Shakespeare in Love, Phantom of the Opera and Amadeus.
The UK Theatre Awards recognise stage productions presented throughout England, Scotland, Wales and Northern Ireland.
Actor Edward Petherbridge, director Sir Jonathan Miller and playwright Sir Alan Ayckbourn are among those up for this year's honours, which will be distributed at London's Guildhall on 20 October.