James Corden on trying to sing like Paul Potts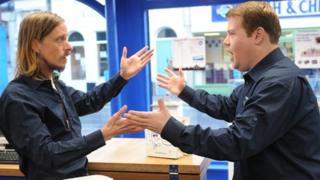 James Corden talks about bringing Britain's Got Talent winner Paul Potts to the big screen, singing with Keira Knightley and his admiration for Meryl Streep.
Corden admits he had his doubts about playing talent show contestant-turned-opera singer Potts in his new film One Chance.
"I think my reaction was the same as everyone else's when they hear there's a Paul Potts film," laughs Corden.
"I was like 'Really? Are you sure this is a good idea?"
But after director David Frankel, of The Devil Wears Prada fame, convinced him the film would focus on the build-up to that famous audition - Potts' journey from a bullied, opera-obsessed young boy to a YouTube sensation - he was in.
"It's a sports movie basically, where the sport is... opera," says Corden.
Potts was a mobile-phone salesman when he entered and won the first series of reality show Britain's Got Talent in 2007, and the film uses footage of judges Simon Cowell, Amanda Holden and Piers Morgan's genuine reactions to that "watercooler moment".
It also boasts other faces well known to UK audiences, such as Julie Walters and Colm Meaney as Paul's parents, MacKenzie Crook as his friend (and manager in Carphone Warehouse) and Alexandra Roach as his love interest.
Corden had to practise wearing his clip-in fake "Paul Potts teeth" for six weeks to conquer any lisping - Potts famously got his fixed with his BGT prize money - but they were "tremendously useful" for getting into character.
Pulling off Potts' operatic singing voice proved a bit more challenging.
"When I said yes to the film I was a little bit bullish and thought, 'I can do this'," reveals Corden.
"So they got me some singing lessons with this brilliant teacher in New York. After about eight or nine lessons some producers came down to hear my opera.
"I got about a third of the way through Nessun Dorma and they just went, 'Yeah we're going to get someone else to do this'. It wasn't great."
So Corden sang "with the microphone turned off" during filming, "and then Paul sort of synched to my lips really".
"We were all a little bit worried - will it work, will they buy it?" admits Corden. "Actually you kind of do."
'Dream role'
The film is backed by Hollywood heavyweight producer Harvey Weinstein, who Corden is said to have impressed while on stage in last year's hit play One Man, Two Guvnors. But he's quick to rubbish internet rumours that Weinstein will be running any sort of Oscar campaign for him.
"For this?" he laughs. "I would be very surprised, I can't imagine that will be anywhere close to the case.
"We've made a really nice, light, humorous film and I'm immensely proud of it, but I think you can start to get ever so slightly carried away with those sorts of things and I'm definitely not, in any way."
It must be hard for Corden to keep his feet on the ground though, when he is currently turning up to work at Shepperton Studios with the likes of Johnny Depp and Meryl Streep.
Nine director Rob Marshall has cast him in "a dream of a role", as The Baker in a big-budget film version of Broadway musical Into the Woods.
"It's certainly the biggest thing I've ever done. It's ridiculous, I spent a long time just waiting to be fired really," says Corden.
"I thought someone would go, 'This is silly, we should get someone who's actually famous'."
But he's still in the job, along with Chris Pine, Anna Kendrick and Emily Blunt. However it is Streep who has really impressed him.
"I would be a robot if it didn't affect me, I think she's probably the greatest actress alive," he says enthusiastically.
"But (the reason) she's so incredible, is that she's just so unbelievably welcoming and encouraging and puts you at ease. (She is) a team player, she encourages a company spirit. I genuinely can't speak highly enough about her."
'Creatively fulfilled'
Having misspent some of his youth in various, slightly dubious boybands, Corden can actually hold a tune.
He'll be doing so in Into the Woods and alongside Keira Knightley and Mark Ruffalo in another film, Can a Song Save Your Life?, due out next year.
"I play Keira's old friend from home who's a struggling musician in New York. I sing, but I'm not - there's a pattern emerging here - I sing but I'm not very good," he laughs.
"Keira's really got the best songs in it - her voice is unbelievable, genuinely. People are going to be so shocked when they hear it. I think it's her best performance.
"It's written and directed by John Carney who made the film Once, which I'm a huge fan of. I'm very proud to be in it," says Corden.
In fact, these days Corden seems rightly proud of all his work. With flops like Lesbian Vampire Killers and his ill-fated sketch show Horne and Corden better left out of it, he currently has his fingers in many successful pies.
New BBC Two comedy The Wrong Mans is a return to form for the Gavin and Stacey co-creator - currently enjoying positive viewing figures and favourable reviews.
And co-written with Mathew Baynton, it gives him the chance to do what he likes best: "Being at the seed of an idea, and writing it and shooting it and editing it, seeing it through. That is probably where I'm probably most creatively fulfilled."
There's also hosting Sky One sports quiz A League of Their Own, and another year of the Brit Awards in 2014 before he hands hosting duties over to "someone younger and better looking".
His plans to return to the stage - "I think in 2015" - sound like they've been mapped out with precision, but Corden denies that is the case.
"I've never really had a career plan, which I'm sure won't come as a shock to anyone," he says.
"Mainly my plan is to have fun and enjoy it. I couldn't think of anything worse than not enjoying it really."