Cloudy with a Chance of Meatballs 2 tops UK box office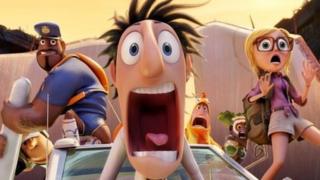 Animated sequel Cloudy with a Chance of Meatballs 2 has gone straight to the top of this week's UK box office chart.
The science fiction comedy earned £3.65m to place ahead of Captain Phillips and new release Jackass Presents: Bad Grandpa.
Last week's top movie, animated snail-racing tale Turbo, fell to fourth place, earning £1.32m from 547 locations.
New release Ender's Game made £1.16m to round off the top five.
Cloudy with a Chance of Meatballs 2's tally was bolstered by takings from 476 preview screenings last weekend, which netted distributor Sony £1.54m.
The film is a follow-up to the 2009 original, which followed a young inventor who creates a machine that causes it to rain food.
Featuring the voices of Neil Patrick Harris, James Caan and Andy Samberg, it went on to earn $243m (£151m) worldwide.
In the sequel, which topped the US box office chart last month, Flint and his friends are called back into action when the food machine awakens and starts producing food beasts.
Another of the week's new releases, Paul Potts biopic, One Chance, earned a respectable £717,857 to claim sixth place.
James Corden stars as the first ever Britain's Got Talent winner, with Alexandra Roach playing his wife.
Arnold Schwarzenegger and Sylvester Stallone's prison break film Escape Plan was in seventh place, followed by Prisoners starring Hugh Jackman and Jake Gyllenhaal.
Sunshine on Leith, an adaptation of the stage musical of the same name, made £254,200 between Friday and Sunday, falling four places to nine.
Woody Allen's latest film Blue Jasmine, starring Cate Blanchett in the lead role, rounds off the Top 10 with a fifth weekend tally of £212,747.