Press views: Rachel Weisz and Daniel Craig in Betrayal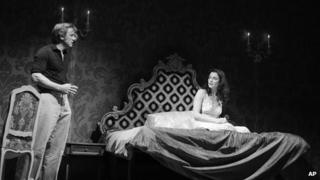 Married actors Rachel Weisz and Daniel Craig and fellow British star Rafe Spall were applauded by a star-studded audience at the opening night of their performance in the Broadway revival of Harold Pinter's play, Betrayal. Steven Spielberg and Bruce Springsteen were among those watching and tickets for the new adaptation are reportedly changing hands for thousands of dollars on the black market.
Pinter's 1978 play was inspired by the playwright's extramarital affair with BBC television presenter Joan Bakewell. Craig plays the cuckolded Robert, while Weisz is Emma, the wife who betrays him with his best friend (Spall). The play is directed by Mike Nichols.
David Cote - The Guardian
The compact, rugged Craig hasn't shrunken from years behind the camera: he projects himself fully and muscularly to the back stalls. Craig even enlivened vastly inferior material when last he was on the Great White Way, in the 2009 police melodrama A Steady Rain. And he's not emoting in a vacuum: Weisz and Spall have charisma to spare, not to mention keen sexual chemistry for their Kilburn flat trysts. So the design is lovely, the cast is appealing and the play itself, while of its time, is not essentially dated. It's simply that nobody gets the tone.
Read the full review here
Tom Teodorczuk - The Independent
Although this production never catches its breath to reveal the slow-burning ashes of the past that the play usually makes vivid, knockout performances from both Craig and Weisz render it a Betrayal on fire. Nichols's crude and chaotic depiction of the love triangle is powerfully compelling theatre - enhanced, one feels, by the real-life frisson supplied by the onstage sparring of Weisz and Craig.
Read the full review here
Marilyn Stasio - Variety
Anyone who shelled out the big bucks to see James Bond in the flesh will get more than they bargained for in Mike Nichols' impeccable revival of Betrayal. They'll be getting a powerful performance from Daniel Craig, a movie star who still has his stage legs. Rachel Weisz, Craig's wife in the real world, and Rafe Spall, both superb, claim much of the stage time as the adulterous lovers in this enigmatic 1978 play that Harold Pinter based on one of his own extramarital affairs. But it's the smouldering Craig, as the cuckolded husband, whose brooding presence is overpowering.
Read the full review here
Matt Wolf - The Telegraph
Craig, who occupies the most explosive point on the play's libidinous triangle, easily comes off the best, playing Robert, the publisher whose wife, Emma (Weisz), is revealed to have had a seven-year affair with his great friend, Jerry (Spall), who was best man at the couple's wedding - a rather cartoonish best man on this evidence, given that Spall plays the gathering ache of the text largely for laughs. (There's also a hint that these Oxbridge contemporaries, plied with enough drink, might well become more than simply friends.) Across nine scenes and as many years, Pinter rewinds events to conclude with the telling physical act that launched the affair, a small yet impulsive gesture here replaced by the sight of Jerry and Emma all but devouring one another: overstatement where less would be more, and sexier, too.
Read the full review here
David Rooney - Hollywood Reporter
Craig, last seen on Broadway opposite Hugh Jackman in 2009's A Steady Rain, showed his dynamic stage chops even in a mediocre play. With a jewel like this one, he's magnificent... watching Craig and Weisz - an offstage husband and wife - explore the unique capacity of a married couple for mutual cruelty adds another fascinating layer. In her Broadway debut, Weisz makes her character's pain incandescent. Her Emma is an unhappy beauty who can be emotionally transparent one minute, brittle and unreadable the next. The actress brings a deliberate stilted, somewhat tremulous quality to the performance that is perfect for Pinter; her line readings suggest Emma's awareness that any ill-chosen word might detonate a bomb. Like her male co-stars, Weisz leaves her character's motivations open to interpretation, which makes this production of Betrayal keep playing out in your head days after seeing it.
Read the full review here
Ben Brantley - New York Times
This is a sexed-up Betrayal, which is not the same as a sexy Betrayal. All those contradictory, fleeting, haunting shades of thought that you expect to see playing on the features of Pinter's characters are nowhere in evidence.
Instead, Robert, Emma and Jerry make up the rowdiest, most extroverted sexual triangle since Liza Minnelli, Burt Reynolds and Gene Hackman caterwauled their way through the ill-fated film Lucky Lady in 1975. And I can safely say that this production has the highest decibel level of any version I have encountered.
I suppose you could conceivably argue, generously, that with volume comes clarification. Certainly, the abiding Neanderthal aspects of manhood - a subtext in Pinter's power plays - have seldom been more violently rendered than they are in Mr Craig's shouted fulminations, Mr Spall's flustered stammerings or even in Ms Weisz's good-ole-gal heartiness. But it does make it hard to believe that these people could ever possibly deceive one another, when their faces keep reading like large-print telegrams.
Read the full review here
Charles McNulty - Los Angeles Times
One of the play's best scenes, set in an Italian restaurant in which Robert takes out his frustration on Jerry by blowing up at the waiter (Stephen DeRosa), strongly implies that Robert is more heartbroken over Jerry than Emma. Craig exposes the sadness beneath Robert's displaced anger while Spall throws into relief Jerry's self-protective bewilderment.
Nichols takes risks with his interpretation but maintains the necessary ambiguity of the situation. His production would have been stronger, however, if he had allowed Weisz's Emma to play hardball with the boys. Kristin Scott Thomas would have given Craig and Spall a real match.
But this Betrayal is a decidedly male affair, and Craig and Spall live up to the expectations that have surrounded this most anticipated production of the New York fall season. Whether the work justifies such exorbitant ticket prices is another story.
Read the full review here
Elysa Gardner - USA Today
Too often, this Betrayal seems to make the same statement as its marketing campaign. We're reminded that we are watching great thea-tuh, staged by a prestigious company, rather than being titillated or moved by the longing and anguish and bile that courses through the play's triangle.
Weisz's Emma can be earthy to the point of seeming blowsy, giggling and wiping her nose between sips of booze. Yet somehow the performance seems studied - that of an elegant actress showing us a cultured but tempestuous woman with her guard down. She has one wonderful, crushing scene with Craig, when Robert essentially shames his wife into a confession; cowering and crying out, Weisz conveys despair, rather than just projecting it.
Craig is crisp and robust throughout, deftly illustrating Robert's capacity for menace, and he and Spall have some witty fun with the festering rivalry between the two buddies. But at length, their exchanges - while absorbing enough for those who enjoy watching educated Brits struggle with their feelings - never really draw blood.
Read the full review here
Richard Zoglan - Time
Director Mike Nichols keeps the mood sombre and the pace deliberate, leaving plenty of room for those famous Pinter pauses. In truth, the mystery and menace are relatively muted for Pinter, and there's a certain safeness in hiring Nichols, Broadway's most bankable director, to direct a couple of movie stars in what is probably the playwright's most conventional and crowd-pleasing drama. Yet Craig and Weisz are excellent, Spall even better, and it's a sleek, taut and spellbinding evening.
Read the full review here
Thom Geier - Entertainment Weekly
Director Mike Nichols' handsome, well-staged production is not your typical crowd-pleaser. Those seeking a more traditional star turn might want to scan the orchestra section before the curtain goes up. (The night I attended, the audience included Javier Bardem, Bette Midler, Glenn Close, and Oprah Winfrey.)
Perhaps because Pinter's backwards structure forces him to seed each scene with clues to his puzzle-like plot, there's an off-putting guardedness to the main trio. They regard their emotions from a safe distance, as if with hands safely tucked into pockets. Unable to engage with each other, they may prove a challenge for audiences to embrace as well.
Read the full review here