Irene Kane, star of Stanley Kubrick film Killer's Kiss, dies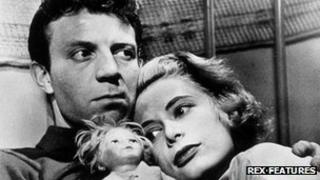 Irene Kane, the female lead in Stanley Kubrick's 1955 film Killer's Kiss, has died in New York of pancreatic cancer.
Kane, who later co-authored celebrity autobiographies under her married name Chris Chase, played a dancer who falls for a boxer in Kubrick's crime drama.
The actress would later say it was "a silly movie" that had been made "with no money [and] no names".
Kane, who died on 31 October, went on to appear on Broadway and on television before moving into journalism.
According to the Hollywood Reporter, her family declined to confirm her age at the time of her death.
The former model was married in 1962 to television producer Michael Chase, the son of Pulitzer-winning playwright Mary.
She went on to co-author the autobiographies of actress Rosalind Russell, comedian Alan King and one-time First Lady Betty Ford.
Kubrick, whose later films would include Dr Strangelove, 2001: a Space Odyssey, A Clockwork Orange and The Shining, died in 1999.