Tom Cruise denies magazines' Suri 'abandonment' claims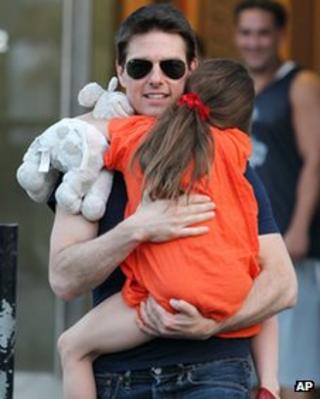 Tom Cruise has dismissed claims he has "abandoned" his seven-year-old daughter Suri following his divorce from actress Katie Holmes as "patently false".
"I have in no way cut Suri out of my life," he said in a declaration filed on Tuesday in a $50m (£31m) defamation case against magazine publisher Bauer.
The 51-year-old is suing Bauer over two 2012 tabloid stories that claimed he was absent from his daughter's life.
Cruise and Holmes divorced in June last year after six years of marriage.
The legal action relates to stories in Life & Style and In Touch magazines that claimed overseas film shoots had stopped the actor being a constant presence in Suri's life.
In documents made public by Radar Online, the star acknowledged he was "a professional actor in motion pictures" whose job involved "extended periods of time in various parts of the world".
However, Cruise insisted he and his daughter remained "extremely close" and had a "wonderful relationship and cheerful phone calls".
"While I'm sure my daughter misses me when I am not with her (as I miss her), she is a very happy child," the actor's statement read.
Suri, he continued, "has never indicated, in words or substance, that she has ever felt abandoned by me".
Cruise's lawyers are asking a judge to order Bauer to declare it did not have any sources to support its contentions.
Bauer's lawyers have argued the star's motion should be rejected, referring to statements from confidential sources that allegedly support its claims.