Dusk Till Dawn becomes TV series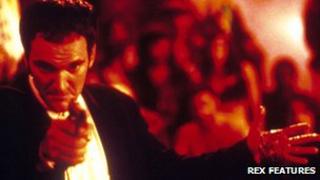 Don Johnson will lead the cast of a television series based on Robert Rodriguez's cult 1996 film From Dusk Till Dawn, starring Quentin Tarantino.
Johnson, best known for his role in '80s TV hit Miami Vice, takes a recurring role as Sheriff Earl McGraw.
Rodriguez, an executive producer on the series, will direct the first two episodes of the 10-episode drama.
"If the movie's the short story, the series is the novel," says Rodriguez. The series will premiere next spring.
"We have assembled an amazing cast and crew, and viewers can expect to be part of a wild ride when the series premieres on El Rey Network," added Rodriguez.
El Rey Network is a 24-hour, English-language network founded by Rodriguez. It will feature original dramas, feature films, horror, sci-fi and "next-generation sports". The new network will debut in the US in December.
Vampires
DJ Cotrona and Zane Holtz will star in the forthcoming Dusk Till Dawn TV series as criminals Seth and Richie Gecko, previously portrayed on the big screen by George Clooney and Quentin Tarantino, respectively.
The series sees the Gecko brothers escaping to Mexico after a bank heist which leaves several people dead.
The pair take hostage a former minister - played by Harvey Keitel in the film - and his family, using their mobile home to travel to the Mexican border.
But it is their stopover at a notorious nightclub populated by vampires that gave the film its cult following - and brought Salma Hayek to global attention as stripper Satanico Pandemonium.
Miramax will be distributing the series outside the US, though not in the UK. No British channel has yet picked up the series.