Strictly Come Dancing star Natalie Gumede 'fit to dance'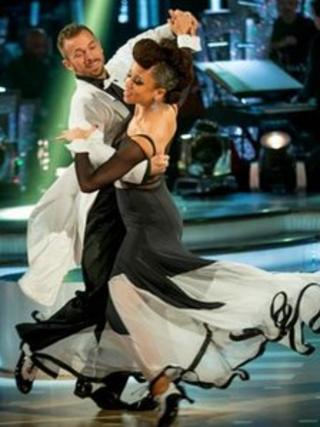 Strictly Come Dancing contestant Natalie Gumede has confirmed she will be dancing in Blackpool this Saturday.
"Thrilled to say I've been declared fit to dance this Saturday! Bring on Blackpool!" she tweeted. "I have rested well and I'm feeling fantastic."
The former Coronation Street star did not perform last weekend following a fainting episode during rehearsals.
Gumede, who was checked by the Strictly medical team on site before being taken to hospital, was ordered to rest.
According to the rules of the contest, the actress was allowed to continue into this weekend's show on the condition that she was medically fit to do so.
Writing on Twitter, the soap star denied she was suffering "from panic attacks or anxiety", as some reports have suggested.
She put her collapse down to "just exhaustion after a long few weeks following an epidural".
"Feeling great and grateful for your support," she added.
A favourite to win the show, Gumede has frequently topped the leader board with her dance partner Artem Chigvintsev.
In their last performance on 2 November, the pair finished four points ahead of their nearest rivals.
Last month Gumede missed rehearsals for the 19 October show because of an injury.
She had an MRI scan to see if she had slipped a disc in her back, but was later given the all-clear.
As a child, Gumede reportedly trained as a dancer but was forced to give up because of injury.