Forest Whitaker: 'The Butler stands for a lot of the silent heroes'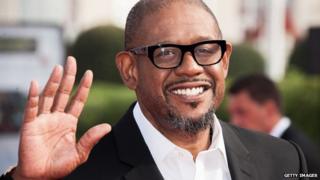 In The Butler, Forest Whitaker plays a member of the White House domestic staff who serves under seven administrations during a tumultuous period in the country's civil rights history.
His character, Cecil Gaines, is based on real-life White House butler Eugene Allen, who served through the 1950s to the 1980s.
The film, directed by Lee Daniels, also stars Oprah Winfrey as Cecil's wife Gloria, and David Oyelowo as his activist son Louis.
A number of well-known faces appear as the US presidents, including Robin Williams as Dwight Eisenhower, John Cusack as Richard Nixon and Alan Rickman as Ronald Reagan.
Whitaker's distinguished list of films includes Bird, The Crying Game, Ghost Dog: The Way of the Samurai and Panic Room.
The actor, who won a 2007 Oscar for his portrayal of Ugandan dictator Idi Amin in The Last King of Scotland, talks here about the challenges of his latest role.
Lee Daniels has asked: "How many Oscar-winners are willing to come and audition for you?" What made you want to audition?
The role is extraordinary - to get to span this length of history as a character. The movie is about holding together the family against the backdrop of the history of the nation and the civil rights movement. It's an extraordinary opportunity.
What does Cecil Gaines represent against that backdrop of history?
There are hundreds and thousands who stand where he does. He represents this army of individuals who were trying to move forward their quality of life. He stands for a lot of the silent heroes.
In some ways, he represents the head of the household and the sacrifices you will make in order to hold your family together through the tough times.
You had the story of Eugene Allen as a source, but what other things did you do to prepare for the role?
I did study his rhythms of speech, and I worked with a dialect coach and a butler coach.
The butler coach lived with me for a number of weeks and I learned how to set up a proper table and make a proper tea. It's really difficult. I was trying to hold this giant silver tray in perfect alignment and I learnt about 'synchronous' serving.
Did you manage to speak to current White House staff?
I got to talk to a few people who have been of service, but it's really difficult to interview butlers at the White House - it's such a secretive position. It's a part of their creed to be private.
Cecil holds so much inside, yet his silence speaks volumes. Was that new territory for you as an actor?
With Ghost Dog I learnt about silence and vibration, but with this one, to be able to have the audience following what I was thinking and feeling was crucial. It was a great challenge. Lee would often say to me: you are communicating much more than you understand.
Who do you hope will see this film?
It's a movie that will benefit most people.
I think people will be affected by the holding together of the family, and the desire to live a good life. Cecil is a hard-working man who is trying to take care of his family.
The youth can benefit - they will be reminded that a lot of movements, throughout history, in every country, were started from youth.
It's important for them to understand their residual power - that they don't have to stand idly by, they can actually make a difference.
The Butler is one of many films coming out about the African-American experience. Hollywood producer Harvey Weinstein has described it as "the Obama effect". What do you think?
There are a lot of films about the African-American experience from different points of view, which I think is really interesting. In this case, there are comedies, dramas, musicals, historical pieces, true stories - in that way it's really unusual.
It's hard to just point at one person, though President Obama is a pivotal figure in history. I think there was a big movement leading up to that.
Even at the White House there were people like Fred Morrow [E Frederic Morrow, the first black man to serve as a presidential aide]... and Condoleezza [Rice] and Colin Powell who also paved the way because they changed people's consciousness... and doors were opened.
It's easy to assume that when you win an Oscar that you can take your pick of the best roles? Is that true?
I have a lot of opportunities but, in all truth, before I won the Oscar I was doing all kinds of unique roles. I didn't really want to change the roles I was playing after the Oscar.
This year I have four more movies coming out - all of which I'm very proud of. Maybe that wouldn't have happened had I not been acknowledged.
The Butler is out in the UK on 15 November.