Thor stands firm at top of US film chart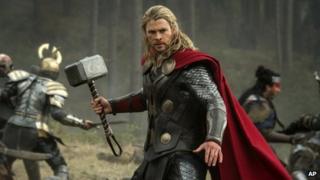 Thor: The Dark World is at the top of the US box office for a second week but romantic comedy The Best Man Holiday opened strongly in second place.
The Marvel creation took $38.5m (£23.9m) over the weekend, while The Best Man Holiday took $30.6m (£19m).
The film, which reunites the characters from 1999's The Best Man, is considered a surprise challenger to Thor's crown.
It features a largely African-American ensemble cast, including Taye Diggs and Morris Chestnut.
The romantic comedy follows a group of college friends who reunite over Christmas and reignite old rivalries and romances.
Movies that appeal particularly to black audiences, particularly those by prolific director Tyler Perry, have recently been surpassing expectations at the US box office.
"It's a familiar refrain, and it's getting a little tired," said The Best Man Holiday's director Malcolm Lee. "I thought we had a chance to do something special."
Lee, who also directed the original, said that while black audiences "see everything" at the movies, he hopes that broader audiences will begin watching more so-called "black films."
Third place in this week's chart was taken by Last Vegas - a "sexagenarian version of The Hangover" - starring Michael Douglas, Robert De Niro, Morgan Freeman and Kevin Kline as four old friends on a stag weekend, with takings of $8.9m (£5.5m).
Animation Free Birds was fourth with $8.3 million (£5.1m), followed by Jackass comedy Bad Grandpa in fifth spot with $7.7m (£4.7m).
Oscar-tipped sci-fi Gravity, starring Sandra Bullock and George Clooney, held firm in sixth place, while Harrison Ford's Ender's Game slipped from third to seventh.
Twelve Years a Slave was in eighth position, with Captain Phillips, starring Tom Hanks, in ninth.
British romantic comedy About Time was at number 10.
The race for the lucrative Christmas box office starts this Friday, with the opening action movie Hunger Games: Catching Fire - which is expected to score one of the year's biggest debuts.