Orange Tree appoints Paul Miller as artistic director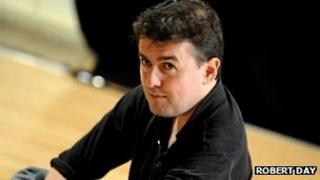 Richmond's Orange Tree Theatre has named Paul Miller as its new artistic director, succeeding founder Sam Walters after 42 years in charge.
Walters, who leaves in June, is the UK's longest-serving director.
He established the theatre with his wife Auriol Smith in a room above a pub in 1971 before moving to bigger premises in 1991. It remains London's only permanent in-the-round theatre.
Miller is currently an associate director at Sheffield's Crucible.
His productions included Michael Frayn's Democracy, which transferred to the Old Vic in 2012, and an adaptation of Hamlet starring John Simm.
He has also directed for the National Theatre, including a West End revival of Alan Bennett's award-winning The History Boys.
2004's Sing Yer Heart Out For The Lads, a tale of racial tensions which overspill during an England football match, was set in a pub - built to scale in the National's Cottesloe venue.
Up to 60 members of the audience were seated on the set, and often started adding their own voices to the production.
"That adds a layer of unpredictability to what is going to happen," Miller told Official London Theatre mid-way through the run. "It makes it an event."
Delighted
He starts his tenure at the Orange Tree in July 2014, and said he was "thrilled and honoured" by the appointment.
"Sam has created a very special place: an intimate in-the-round space where new plays and neglected treasures shed light on each other. It's a privilege to take his vision forward and I can't wait to start putting the new and the rare together in the Orange Tree's unique way."
Walters added: "I am delighted that Paul Miller is taking over from me. I wish him all the very best and know that he will find our audiences as committed, supportive and demanding as I have."
Since opening the Orange Tree, Walters has championed new plays and neglected works, as well as introducing a series of Sunday concerts and symposiums, and a highly regarded Trainee Directors Scheme.
He was made an MBE in 1999.
His final season includes a production of Dion Boucicault's The School for Scheming, and the UK premiere of It Just Stopped by Australian playwright Stephen Sewe.
The season culminates with a festival of productions inspired by former Orange Tree trainee directors.