James Arthur cancels engagements after Twitter row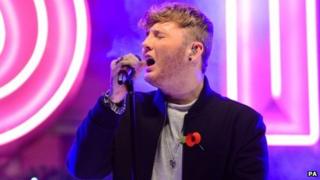 X Factor winner James Arthur has cancelled all of his engagements for a week due to "acute exhaustion".
It comes after a turbulent seven days, in which the pop star became involved in a homophobia row, and ceded control of his Twitter account to his managers.
A statement released on Friday said the 25-year-old had been "instructed to rest for several days by his doctor".
"James would like to apologise to his fans for any disappointment caused to them by these cancellations," it added.
"He hopes to get back to full health as soon as possible."
Arthur won the X Factor last year, selling 1.2m copies of his debut single, Impossible.
But his outspoken public statements have continually landed him in hot water.
He called One Direction's Louis Tomlinson a "little bitch" and said former X Factor winner Matt Cardle made music for "bedwetters".
His Twitter feed often seemed hostile - taking foul-mouthed pot shots at boybands, and repeatedly criticising Cardle's manager.
'Naive'
Things came to a head last week, when he unveiled a rap song in which he called up-and-coming musician Micky Worthless a "peasant" and advised: "You should shoot yourself".
The so-called "diss track" was a response to Worthless's own song, Stay In Your Lane, in which he accused Arthur of being a "puppet" who slept with Simon Cowell to win the X Factor.
But one lyric, in which Arthur called Worthless "a [expletive] queer", was widely criticised.
Comedians Matt Lucas and Frankie Boyle took issue with the homophobic slur, while his former X Factor colleague Lucy Spraggan tweeted: "People kill themselves every day because there's insults like that around".
Arthur apologised and promised to take the song offline, saying he was "disappointed in myself for being so naive".
But he then sent Spraggan a string of angry text messages, calling her "two-faced" and a "fickle attention seeker".
"Lucy what are you playing at having digs at me? You not thing [sic] you're being a bit over the top?" Arthur asked.
"Is it coz you're a gay rights activist you had to say something as extreme as 'people kill themselves every day over words like queer' are you for real?" he continued.
She published the exchange on her Twitter feed, saying: "Just had a very interesting text from a very stupid guy. Mistakeo."
Speaking to the BBC earlier this month, Arthur revealed he had refused any media training from his record label.
"I've done a few face palms after things I've said because it's stupid. But if I'm not like that, I won't feel human anymore," he said.
"What's the point in me getting up in the morning and coming in and speaking to 20 journalists and having a script in my mind? It's soul-destroying."