Self-financing 'best option' for first-time director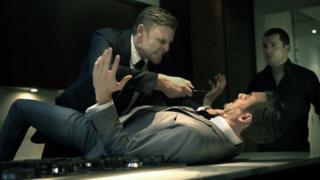 How hard is it to get a first feature into cinemas? Two first-time British directors reveal how they did it, and offer advice to those who might follow in their footsteps.
"I'd always wanted to make a film," says writer-director Peter Stylianou. "I started making a few shorts but I always had a feature in mind.
"I made one short, about a couple of gangsters who bring a dead body through a house, and decided to build a feature around it."
The end result is Who Needs Enemies, a gritty thriller in the Guy Ritchie mould that involves a cache of loot, a criminal conspiracy and more than one dead body.
Made by the director's Red Guerilla Films company for just over £10,000 using two DSLR cameras (essentially, professional stills cameras), it can be seen in more than a dozen cinemas across the country from Friday.
Stylianou is typical of a growing cadre of film-makers who, emboldened by the convenience and low cost of new technology, have made the decision to self-finance their work.
"I thought using my own money was the best option," he explains. "I wanted to get going and I wanted total creative control.
"In a way I wanted to shoot it with as little money as possible, to show myself and the world what I could do with a small purse.
"That was the plan. Hopefully it will be a calling card that can be shown to future investors.
"We hope that by putting our own money into it, we'll never have to put another penny into our films again."
Rather than dipping into his own pocket, Steve Rainbow received backing for his first feature from Sheffield-based outfit 104 Films.
The company, which specialises in disability and disadvantaged cinema, in turn receives funding from the British Film Institute, Creative Skillset and Creative England, the national agency that replaced the previous network of regional screen agencies.
Despite this, the West Midlands-based director still found himself with limited resources when he came to make N.F.A. [No Fixed Abode] - a psychological thriller about a man who wakes up one morning to find himself inexplicably homeless.
Rainbow, who cites one of his skills as "making good films from bad budgets", insists having little to work with can inspire directors to be more creative.
'Two shillings and sixpence'
"Independent film-makers have to think more imaginatively," says the director, whose film opens on six screens on Friday.
"If you've got two shillings and sixpence to make a film, you've got to figure out how to make it for that amount."
One way of doing so is to utilise (willing) family members. In Who Needs Enemies, actor Michael McKell - previously seen in TV shows Casualty and Doctors - appears in one scene alongside his own children.
Other tactics are to defer fees, call in favours from friends and encourage local businesses to let their premises be used as locations.
"We used our own properties and went around asking for favours, telling people they'd be credited as a thank you," says Stylianou.
"We found people quite liked being involved, as long as we didn't outstay our welcome."
"People are usually willing to open their doors as long as it doesn't impact on them too much," agrees Rainbow.
"They're quite excited when you ask to use their office or car park."
Both Stylianou and Rainbow testify to the benefits of working within a recognised genre, particularly when it comes to securing distribution.
"I knew if we were going to have a chance with this budget, we would need a genre that carries a lot of weight," explains the former.
'Genre element'
"The genre element does give it a hook," agrees Rainbow, whose film was first seen at the Edinburgh Film Festival in 2012.
"The intrigue has really sparked interest in the film, more perhaps than the homelessness aspect."
Who Needs Enemies and N.F.A. are both distributed by Ballpark, a Sheffield-based company that concentrates on "cost-effective, specialised or key city releases".
Its CEO, Mark Thomas, says he hopes their simultaneous release will "generate or stimulate a debate about micro- and low-budget films".
"Both films are incredible in their own right, not least for what they've been able to achieve on a low budget with relatively inexperienced crews," he says.
"It's amazing what can be achieved through advances in camera and editing equipment that I certainly didn't have when I started out."
So what advice would Stylianou and Rainbow offer to others trying to make their pet projects?
"I would say go for it," says the latter.
"Figure out to make it on a low budget and do it, even if it means you have to compromise in some areas."
"When people say they haven't got the money to make a film, it's just not true," says Stylianou. "If we found the money, you can too.
"But I'd encourage them to get their screenwriting in order first. You've got to approach screenwriting seriously and make sure the script is good enough."
Neither man expects their film to challenge such current box office titans as Gravity and The Hunger Games: Catching Fire. Yet they both hope a theatrical platform will pay off when their films are made available on DVD and video-on-demand.
They are also optimistic that it will help them to realise their next projects - a thriller in the vein of Rosemary's Baby in Peter Stylianou's case, and, for Rainbow, a Hitchcockian suspense set on a caravan site.
Who Needs Enemies and N.F.A. are out in the UK on Friday.