The Tiller Girls to be relaunched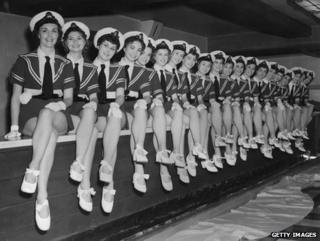 A modern version of celebrated dance troupe The Tiller Girls is being launched, with auditions taking place in London next week.
The chorus line, famous for their high-kicking routines, once counted former House Of Commons Speaker Baroness Boothroyd as a member.
John Tiller, who founded the troupe in Manchester in 1890, is credited with inventing precision dance.
The new Tiller Girls are being lined up to star in a BBC Christmas special.
The Tiller family has licensed the name to World Dance Management, which is aiming to bring the troupe up to date and make it "relevant to today's audience".
Auditions are being held at Sadler's Wells on Monday for more than 100 women, with Olivier Award-winning Top Hat choreographer Bill Deamer on board to create the routines.
When the original troupe officially bowed out in 2009, some members were in their 60s and 70s, but dancers in the new troupe are expected to be a lot younger.
"In the 1920s, John Tiller had around 80 troupes all over the world in almost every major city from New York to Paris," said Marina Blore, director of World Dance Management.
She said Tiller's choreography, with the dancers locking arms behind their backs and high-kicking in a line, was "ahead of its time".
"He deserves greater recognition from the industry as the pioneer of precision dance."
The Tiller Girls' performed for King George V and Queen Mary in 1912 at their first Royal Command Performance, going on to appear in a further 24 shows.
They made many TV appearances, including Sunday Night at the London Palladium in the early 1970s, and also appeared with Josephine Baker in Paris at the Folies Bergere.
"We are very excited and honoured to be handed the reins for their re-launch," said Blore.
"We plan to make the look and choreography relevant to today's audience, the original traditions and disciplines of precision dance will be an integral part of the new look Tiller Girls."
Bernard Tiller, John's great grandson who owns the rights to the name, said he had been looking for a partner to reinvent the troupe for a long time.
"This is something that I have been working on and dreaming for over thirty years," said Tiller.
"[I] hope this will again see The Tiller Girls' name up in lights and the tradition of the past dancers carried forward to a new generation."