Kerrang! Radio breaks Ofcom rules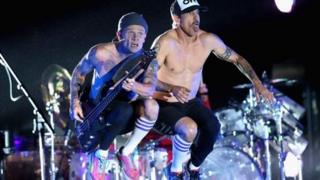 Kerrang! Radio has been found in breach of Ofcom rules after it broadcast an unedited version of the Red Hot Chili Peppers track Suck My Kiss.
The digital station broadcast the song, which contains four swear words, at 10:00 BST on Saturday 21 September.
The regulator said licensee Bauer Media broke rules on monitoring output and airing offensive language at a time when children may be listening.
Bauer Media said the track was played out "as a result of a technical fault".
In its response, the company said the unedited version of the song had been "included in the Kerrang! database pre-Bauer ownership".
It added when the station relocated from Birmingham to London and migrated systems, the track had been moved from a "trash" category to another category which led to it being played out.
Bauer said as the presenter of the show had pre-recorded the links between song, they would "not have heard the track" and so were unable to immediately broadcast an apology.
An apology was later broadcast the following Saturday and Bauer said it was reviewing its music database to ensure no tracks contained unsuitable lyrics.
Ofcom said playing the unedited track was clearly in breach of rules regarding broadcasting offensive language, at a time when children would be likely to be listening.
It added while it noted Bauer's steps to improve its compliance procedures, it was concerned that "seemingly no member of staff had been monitoring the output as broadcast" which consequently led to no apology being broadcast at the time.
It is the second time Kerrang! radio has broken rules on offensive language after it broadcast another unedited song on 8 April.
Meanwhile, BBC Radio Cumbria was also found in breach of the same rules after Barrow AFC manager Dave Bayliss swore twice during a live interview.
Mr Bayliss made the comments following a football match to sports presenter Andy Wood, who apologised at the end of the six-minute interview broadcast at 17:00 on 14 September.
A studio presenter also made another apology shortly afterwards, while Mr Bayliss himself apologised to a listener on air 10 days later.
The BBC said it had not experienced any previous issues with the football manager - who had frequently contributed to the station - and were therefore shocked by the "unexpected turn of events".
Ofcom said Wood should have intervened during the interview to remind Mr Bayliss to "refrain from using further offensive language or to apologise for its use".