Ryan O'Neal: 'I own Warhol Farrah Fawcett portrait'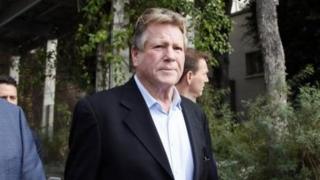 Actor Ryan O'Neal has insisted in court that he owns an Andy Warhol portrait of late actress Farrah Fawcett, which he removed from the actress's home after her death in 2009.
The University of Texas at Austin is taking legal action against O'Neal, claiming Fawcett left them the painting as part of a donation of her artwork.
O'Neal, 72, had an 18-year relationship with Fawcett.
The Love Story actor told the jury in Los Angeles: "The painting is mine."
The portrait is one of a pair created by Warhol in 1980, when he took Polaroid photos of the actress and added splashes of colour to a monochrome canvas.
One version is currently on display at the university's Blanton Museum of Art in Austin, while O'Neal has hung the other over the bed at his Malibu beach house.
Farrah Fawcett, who died after a three-year battle with cancer in 2009, aged 62, attended the University of Texas in the 1960s.
O'Neal was sued by the university, which wants to display the paintings together, in 2011 after the portrait was spotted in the actor's home during an episode of reality TV show Ryan and Tatum: The O'Neals.
He has since countersued, asking for a tablecloth that Warhol drew hearts on and addressed to him and Fawcett to be returned.
The actor read a letter Fawcett wrote to the couple's son, Redmond, who was born in 1985. O'Neal was also asked by the University's lawyer David Beck to read passages from his 2012 memoir Both of Us.
Mr Beck questioned O'Neal about Fawcett catching him in bed with another woman in 1997, an incident the lawyer said had changed the pair's relationship.
O'Neil said the following year he asked Fawcett to take the Warhol portrait hanging over his bed.
"I asked her to keep the portrait with her, store it for me, because my young (girlfriend) was uncomfortable with Farrah staring at her," he told the court.
It then remained at Fawcett's home until her death in June 2009.
Mr Beck questioned whether the actor had ever discussed removing the portrait with anyone, including a trustee charged with carrying out Fawcett's final wishes.
O'Neal, who removed the portrait outside her bedroom, said: "Of course I did. I'm sure I did. It wasn't a secret."
He told jurors that if he is allowed to keep the Warhol portrait, he will never sell it, and that his estate documents call for it to be passed down to Redmond O'Neal.
According to O'Neal, Fawcett had accepted his proposal of marriage shortly before her death.
Lawyer Beck challenged the actor over how the portraits originated, suggesting that Warhol had approached Fawcett directly.
However O'Neal said Warhol had asked him in 1980 whether Fawcett would be interested in being the subject of a portrait and that she had agreed. The actor said he had requested two versions, since he and Fawcett had separate homes.
He said Warhol made the portrait within two weeks of a brief photo shoot with Fawcett in his New York studio.
He told the court: "It didn't take long. Doing her hair took longer than taking the pictures."
Mr Beck asked why there was no mention of a deal with Warhol in a journal kept by O'Neal, but the actor said some of his journal from that time had been lost.
O'Neal's lawyer Marty Singer said he expects to call the actor back to give evidence later in the trial.