Globe season to mark WW1 anniversary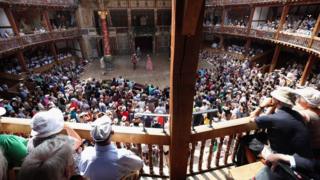 Shakespeare Globe's 2014 season will mark the 450th anniversary of Shakespeare's birth and the centenary of WW1.
Entitled Arms and the Man, the season will include four new plays by Simon Armitage, Richard Bean, Howard Brenton and David Eldridge.
There will also be new productions of Shakespeare's Antony and Cleopatra, Julius Caesar and The Comedy of Errors.
Lucy Bailey's 2006 production of Titus Andronicus will also be revisited.
Bean's new work, Pitcairn, is described as a "brutal telling" of the colonisation of the remote island of Pitcairn by Fletcher Christian and the Bounty mutineers. Bean's recent credits include the hit comedy One Man, Two Guvnors at the National Theatre and in the West End.
Dr Scroggy's War, by Howard Brenton, follows 19-year-old Jack Twigg on his journey to the trenches of the First World War and back, and explores his relationship with pioneering medic Harold Gillies, the founding father of plastic surgery.
David Eldridge's Holy Warriors covers two millennia of conflict over the struggle for Jerusalem.
Poet and novelist Simon Armitage's The Last Days of Troy dramatises Homer's Iliad. It will arrive at the Globe on 10 June after its world premiere at the Manchester Royal Exchange.
Armitage described the work as "a back-room story of wounded pride, and the push and pull of family ties and national loyalty".
The previously-announced touring production of Hamlet, which will visit every country in the world, will open at the Globe on 23 April 2014 - the 450th anniversary of Shakespeare's birth.
Venues for the two-year project will include Wittenberg in Germany, the Roman theatres of Philippopolis in Bulgaria and Heraclea in Macedonia, the Folger Shakespeare Library in Washington and the Mayan ruins of Copan in Honduras.