Edward Hopper 'bleak' painting sells for record $40m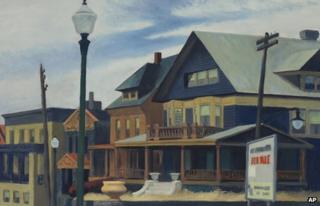 A Depression era view of New Jersey by Edward Hopper has sold for $40m (£24.4m), setting an auction record for the US artist.
East Wind Over Weehawken, created in 1934, was sold by Christies to an anonymous telephone bidder for almost double its pre-sale estimate.
The previous record was $26.9m (£16.4m), set in 2009, for his work Hotel Window.
Hopper, who died in 1967, was famed for his depictions of modern American life.
The realist painter gained widest recognition for his work in oils, but also produced prints and watercolours which encompassed both urban and rural scenes.
The New Jersey piece, which he considered one of his best artworks, was part of the Pennsylvania Museum of the Fine Arts' collection for more than 60 years.
The proceeds will be used to create a fund for the purchase of new artworks.
The painting depicts a desolate, dark green clapboard house with a 'For Sale' sign beside it, reflecting the melancholy of the time.
It still stands today, but is now painted white. The property commands a view of Manhattan across the Hudson River, which is not shown in Hopper's streetscape.
After a slow start, Hopper's career accelerated during the 1930s when several of his works were purchased by the Whitney Museum of Modern Art and the Metropolitan Museum of Modern Art.
He married fellow artist Josephine Nivision, who died 10 months after him. She bequeathed both their bodies of work to the Whitney.