Sound of Music actress Eleanor Parker dies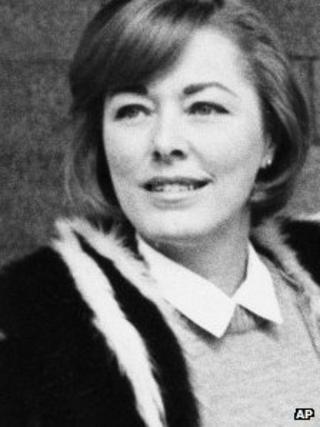 Actress Eleanor Parker, who was best known for playing the baroness in The Sound of Music, has died aged 91 in California.
Family friend Richard Gale said she died on Monday due to complications from pneumonia in Palm Springs.
Parker was nominated for Oscars three times - in 1951, 1952 and 1956.
Her co-star Christopher Plummer described her as "one of the most beautiful ladies I have ever known - both as a person and as a beauty".
He added: "I hardly believe the sad news, for I was sure she was enchanted and would live forever."
The actress began her career after being discovered at the Pasadena Playhouse.
She then signed a contract with Warner Bros, for whom she played minor roles until she was cast in the lead of 1946 film Of Human Bondage.
Lip-sync opera role
However, the film flopped and Parker did not secure her real breakthrough performance until 1950 in Caged.
Her portrayal of an inmate in a brutal prison, who arrives as a young innocent but becomes a tough convict, earned her a best actress Oscar nomination.
Her second Academy nod came the following year as Kirk Douglas' frustrated wife in Detective Story.
A string of successful films followed, including Scaramouche with Stewart Granger, Valley of the Kings with Robert Taylor and The Naked Jungle with Charlton Heston.
She then scored her third Oscar nomination for playing opera star Marjorie Lawrence in 1955's Interrupted Melody, where she learnt to lip-sync nine arias in three languages.
'Diverse individuals'
Parker's last memorable role was in 1965's The Sound of Music, starring opposite Plummer and Julie Andrews.
However, the actress' career began to wane and she later worked infrequently, appearing in TV shows including The Man From U.N.C.L.E, Murder, She Wrote and The Love Boat.
"I'm primarily a character actress,'' Parker said in a 1988 interview, explaining why she never achieved the level of fame of so many of her co-stars.
"I've portrayed so many diverse individuals on the screen that my own personality never emerged.''
Her last credit was the 1991 TV movie Dead on the Money.
Parker was married four times, with her first three marriages - to Navy dentist Fred Losse, producer Bert Friedlob and painter Paul Clemens - ending in divorce.
She was married to Shubert Theater manager Raymond Hirsch from 1966 until his death in 2001. She is survived by two daughters and two sons.