Hugh Laurie named best actor at New Zealand film awards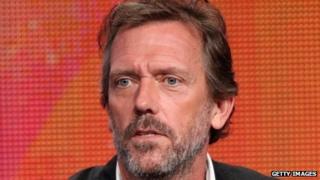 British star Hugh Laurie has won best actor at the New Zealand film awards for his role in Mr Pip.
Laurie won the Moa - the country's version of an Oscar - for playing a teacher who reads Dickens to children on a strife-torn Pacific island.
His young co-star, Xzannjah, took the prize for best actress, while the film won a further two awards.
But the big winner at the ceremony in Auckland was rites of passage movie Shopping, which won six trophies.
Top of the Lake, written by New Zealand Oscar winner Jane Campion, was named best television feature.
The series was recently screened on BBC Two.
House star Laurie, who was unable to pick up his award in person, plays teacher Tom Watts in Mr Pip, who is the only white man to remain on the island of Bougainville in the 1980s when a civil insurrection was raging.
He reads Great Expectations to the local school children in an effort to deflect attention from what is going on around them, and a pupil called Matilda - played by Xzannajh - is particularly drawn into the story.
The film is based on the best-selling novel by New Zealand author Lloyd Jones, which won the Commonwealth Writers' Prize for the best book from the region and was shortlisted for the Man Booker Prize in 2007.
The movie, directed by Andrew Adamson (Shrek, Prince Caspian) was released in Australia and New Zealand this October, but has yet to be seen in the rest of the world.