Prince of Wales gives medals to 'art champions'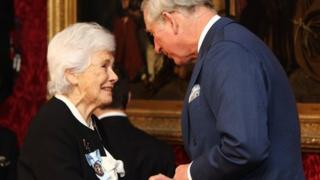 Prominent fund-raisers for the arts have been honoured by the Prince of Wales with medals at a London ceremony.
Lord Rothschild was among the five recipients, for his "inestimable" contribution to British cultural life.
Two married couples were also recognised, including Phillip and Christine Carne, whose scholarship has helped fund drama and music students.
The medals, first presented in 2008, celebrate individuals' support for the arts and the difference they make.
Calls to inspire the next generation of arts philanthropists have been made, underlining the importance of individual support for cultural activities.
Jonathan Moulds, chairman of Arts and Business who organises the Prince of Wales Medals for Art Philanthropy, said: "We must also turn our thoughts to how we can collectively inspire a new generation of individuals to be generous with their time, their determination and their money.
"The arts are not an optional extra," he added.
Lord Rothschild has a passion for fine art and has worked with numerous institutions, including the National Gallery, while the Rothschild Foundation has donated a number of works.
Other recipients of the medal were Lady Bernstein, a patron of dance and a former Royal Ballet dancer whose career was ended by injury at the age of 22.
Discrepancy
In 2011 she made a grant of £1 million to choreographer Wayne McGregor which he has put towards building a house for the use of his company.
"Angela Bernstein is daring, risk-taking and unique. She is a true modern Diaghilev," he said.
Since the 1980s, Spanish-born arts supporter Delfina Entrecanales has funded studio spaces for some 400 artists, including Tacita Dean and Mark Wallinger.
An extension to her London premises in the New Year will concentrate on working accommodation for Middle Eastern and African artists.
A second married couple, Ian and Mercedes Stoutzker, were also awarded a medal for their extensive support of the music world, including a £500,000 donation which enabled a world class music venue at the Royal Welsh College to be built in 2011.
They are also patrons of the visual arts, donating nine significant works worth £12m to the Tate last year.
Arts and Business have also pointed out the discrepancy between philanthropy in London and the rest of the country.
It amounts to £41 per head of population in the capital and just 82p in the other parts of England.
A report earlier this year also found that arts funding is skewed heavily in favour of London.