EastEnders: Danny Dyer's clan set to rule the Queen Vic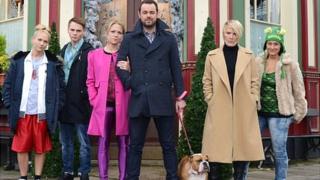 A brand new family is set to be thrust into the very heart of long-running soap EastEnders - its beloved old pub the Queen Vic.
The Carter clan are headed by Mick, the latest in a long line of landlords, played by "hard man" actor Danny Dyer.
The family, which also includes Mick's wife Linda, their grown-up children and pet bulldog, will make their entrance on 26 December.
"We're taking over the Vic - it's massive, you can't hide. It's an honour as it's the hub of the show. Everyone goes in there and has their business," says Dyer, who was born in east London.
"It's the right thing to come in with a family and not as a character on the periphery - it would be a lot harder coming in on your own," he adds.
The Carters already have a foothold in Albert Square courtesy of Mick's hard-faced sister Shirley, a resident since 2006. She recently returned with younger lesbian sister Tina in tow.
And there are already plans to extend the dynasty with the introduction of Mick's manipulative dad Stan, to be played by distinguished stage and screen actor Timothy West.
Their arrival brings to an end old Walford hard nut Phil Mitchell's ownership of the Vic and the years of Alfie Moon's shaky tenancy over the square's jewel in the crown.
Soap bosses hope viewers will warm to a strong family at the heart of the fictional community led by a "first couple", which delves into EastEnders' 28 years of history.
"I'm just like a normal guy who loves his family and is protective of them. But there's definitely something there - you don't cross him," says Dyer of his character, who makes his first appearance on Christmas Day.
"He's quite in touch with his feminine side and keeps nicking Linda's pink dressing gown.
"It's showing a side to me that no-one's really seen before which is why I was so interested in the role," adds Dyer, who is best known for homegrown gangster movies including The Business and Outlaw.
"The more you can make the character like yourself, the better - there's nowhere to hide in this game. It's about being real, you can't pretend," the 36-year-old says.
But he admits paying homage to Queen Vic landlords of the past is unavoidable, and throws in his lot with a man known for his shady dealings and see-saw love for two of the pub's former leading ladies, Peggy and Pat.
"I've got a bit of Butcher about me and want to try to bring a bit of Frank back.
"I loved everything about [Mike Reid, who played Frank Butcher]. He was a real east Londoner, was so funny but had a real presence about him. When he was behind the bar, he believed it. I should say Den Watts but it was always Frank, really."
Even the actor finds it impossible not to mention "Dirty Den", Albert Square's first publican. Dyer's on-screen wife, played by Kellie Bright, is also drawn to Den's wife Angie.
"Angie Watts epitomised for me what a landlady is. She was strong but with an incredible fragility that made you love her."
She adds that Linda, her "hot headed" character, "eats and breathes" The Vic, having been raised in a pub. Ironically, she will make friends with Sharon Rickman, Den and Angie's daughter who suffered tumultuous teenage years living in the very same boozer.
What goes on between Albert Square's leading couple is all important, and Bright hints it won't all be plain-sailing for Mick and Linda, who were childhood sweethearts.
"They're madly in love with each other, there's real fizz there. They're either tearing each other's heads off or tearing each other's clothes off," she says.
But the actress plays down any repeat of Den and Angie's poisonous marriage, where "Ange" even faked terminal illness in a bid to hold on to her cheating man.
"I think Den and Angie were Den and Angie - Mick and Linda are Mick and Linda," she explains.
The soap's executive producer Dominic Treadwell-Collins says the Carters' creation is "rooted in the best traditions of EastEnders" and are a "British family with cracks, knocked edges and a touch of darkness".
Soap families are often diminished as actors leave for pastures new, leaving characters without an anchor. But the Carters might expand even further.
Along with Mick's Dad, Aunt Babe (Annette Badland) is joining the throng as a busybody older character.
And Mick and Linda also have an older son, currently serving in Afghanistan, who might make an appearance further down the track.
In Albert Square, family still matters.