Director Daniel Evans on Oliver! and the National Theatre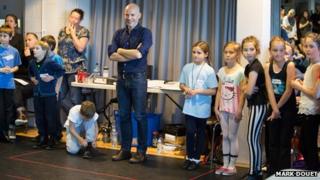 Acclaimed actor-director Daniel Evans started his stage career in Oliver! at the age of 12. Twenty-eight years on, he discusses putting on a major revival of the classic musical and narrowly missing out on British theatre's top job.
Daniel Evans remembers the Pontypridd Amateur Operatic and Dramatic Society fondly. When he auditioned to play the Artful Dodger in Oliver! in his home town as a boy, he impressed the south Wales am-dram establishment so much that they offered him the title role instead.
"It was an amazing experience," Evans says. "I knew around then that I wanted to act. It's strange, isn't it, how things come back into your life?"
Now he is directing a new production of the evergreen Lionel Bart musical at the Sheffield Crucible, the theatre he has established as arguably the best outside London since becoming its artistic director in 2009.
After deciding on his career path at a young age, Evans began acting with the Royal Shakespeare Company before he had finished drama school and earned major parts at the National Theatre in his early 20s.
He has since won Olivier Awards for best musical actor for two Stephen Sondheim shows - Merrily We Roll Along in 2001 and Sunday In The Park With George in 2007.
Then in 2009, he took a step back from the spotlight to become artistic director of Sheffield Theatres, which runs the city's Crucible and Lyceum venues.
His vision when he joined, he says, was to ensure that the theatres played a significant role in "not just the regeneration of the city but in its spiritual, intellectual and emotional life".
He also promised to bring "the best artists and theatre-makers in the world" to Sheffield.
Four years on, the complex was named the best theatre outside London by The Stage newspaper and dominated October's UK Theatre Awards, which reward the best of regional theatre.
He says his version of Oliver! will be darker than Sir Cameron Mackintosh's hit production that has been seen in the West End and on tour at frequent intervals over the past 20 years.
"I wanted to try to balance the cheerful nature of most of the songs with the darker Dickensian edge," Evans says.
"There are bits of the novel that are incredibly dark, and bits of the musical that are too. So our set is dark and it creates a forum for us to explore the darkness within the story."
Breeding grounds
Evans is also preparing to take his stage version of 1997 film The Full Monty to the West End a year after its premiere at the Sheffield Lyceum.
The total capacity of the three auditoriums he runs in Sheffield is 2,500, which is "as much as the National Theatre" in London, Evans says, before adding: "On a fraction of the subsidy, obviously."
Evans's track record in Sheffield recently made him a contender to become the National Theatre's new artistic director. According to one report, he made the final shortlist of three before losing out to Rufus Norris.
"I don't know if I was the final three," he says. "But I was interviewed."
Evans now wants more collaboration between the nation's flagship theatre on London's South Bank and what he calls the other national theatre - "the network of theatres up and down the country that are often breeding grounds for the great talent that eventually gravitates towards the National Theatre".
"They often have to do it on a fraction of the subsidy and often with a populace that doesn't have as much money to spend," he says.
A "deeper dialogue" between the two could mean more plays transferring from the National to regional theatres and vice versa, as well as the National working more closely with regional theatres on new productions and helping with backstage functions like fund-raising.
"I think there is a way the National Theatre could truly lead us and collaborate with us at the same time," Evans says.
Evans's references to the National's subsidy may suggest some envy - he would have liked to have played with the £18m the London venue gets from Arts Council England per year, compared with £1.3m for Sheffield Theatres.
The Sheffield complex, like many others, has been hit by funding cuts from both Arts Council and local council, which has put more pressure on staff and on the ability to stage unfamiliar and challenging plays.
"We've gone through three rounds of redundancies," Evans explains. "Not pleasant. And if you're not careful, following that route, then the remaining staff can often feel overstretched. Not good for morale and not good for health."
Evans reveals there was "a discussion" in the boardroom about how many new plays the theatre could afford to stage because new works are often the most difficult to sell.
"We have an incredibly supportive board so there was never a sense that 'this has to go,'" Evans says.
He is particularly pleased that all of Sheffield's winning productions at the UK Theatre Awards were new shows - even if one, The Full Monty, was based on a hit film. The others were This Is My Family, a musical by Tim Firth, and brutal office drama Bull by Mike Bartlett.
As a result of the cuts, Evans says he "simply can't afford to open our doors and not play to substantial houses" in the Crucible and Lyceum. Are there any plays he cannot put on because they are not commercial enough?
"The play I'd love to do on the Crucible stage is Coriolanus," Evans replies.
"But at the moment we simply can't do it because it's not a popular Shakespeare [play] and we would have to be prepared for our audience to take such a risk on a play they wouldn't know, even though it's a perfect play for now because it looks at the nature of democracy.
"Yeah, there's a whole list of plays that I'd love to do that we just cannot afford to do in this climate."