Vin Diesel to play Groot in Marvel's Guardians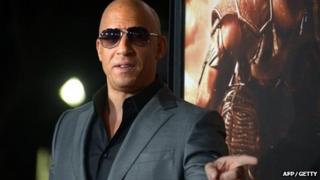 Marvel Studios has confirmed action star Vin Diesel will voice the character of Groot in its space adventure, Guardians of the Galaxy.
It posted the news on the Marvel website, just hours after Diesel himself appeared to confirm the rumours by posting a photo on Facebook.
The picture showed him hugging a model of the giant tree character, Groot.
The live-action adventure is due in August 2014, directed by James Gunn and starring Chris Pratt as Star Lord.
The Parks and Recreation star is joined by Bradley Cooper as Rocket Raccoon and Zoe Saldana as Gamora, along with Benicio del Toro, John C Reilly and Glenn Close.
Diesel, who has starred in four of the six Fast & Furious films, will reprise his role in forthcoming movie Fast & Furious 7.
He topped the US box office in September this year as the star of Riddick, his third outing as the convict turned anti-hero of the same name.
Marvel's official announcement about his role in Guardians of the Galaxy was subtitled: "The action star will lend his booming voice to Marvel's epic Guardians of the Galaxy film!"
'Completely official'
Director Gunn also took to Facebook to comment on the news.
"Yep it is completely official. AND he's amazing," he wrote on his page. "I never knew someone could say I AM GROOT so many different ways and with such feeling (and that sounds like I'm kidding but I'm not!)."
In October, Diesel posted a video of himself testing out stilts for a motion-capture role in Guardians of the Galaxy, "continuing his apparently fearless disregard for Marvel Studios' famed secrecy", according to Hollywood Reporter.
In the video, he teased the role by saying he played "a seven-and-a-half-foot tree" with "one line in the movie."
In response to a fan asking why Marvel had only just confirmed the news, Gunn said Diesel was not "officially attached until very recently".
"He wanted to do it and we wanted him to do it but some kinks needed to be worked out," explained Gunn.
Marvel said the film followed the adventures of an "unlikely cast of characters" who must "join forces to defeat a cosmic force of epic proportions".