Tom Cruise settles libel case over Suri 'abandonment'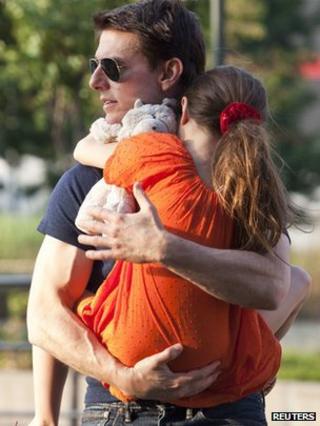 Actor Tom Cruise has settled a libel case with a German publisher which claimed he "abandoned" his daughter Suri after divorcing Katie Holmes.
Cruise and Bauer, which publishes two US celebrity lifestyle magazines, mutually agreed to drop the action.
They agreed to pay their own costs and legal fees, according to papers filed in Los Angeles District Court.
Cruise's lawyers said two reports "never intended" to imply abandonment. Bauer has not commented on the case.
The 51-year-old's legal representatives added that the full terms of the settlement were confidential.
They said the media company, which publishes US magazines Life and Style and InTouch Weekly, "never intended to communicate that Tom Cruise had cut off all ties and abandoned his daughter, Suri, and regret if anyone drew that inference from anything they published."
The case was scheduled to go to trial in June over claims that Cruise was unable to be present in seven-year-old Suri's life due to overseas filming commitments.
But the actor insisted he and his daughter remained "extremely close" and had a "wonderful relationship and cheerful phone calls".
"While I'm sure my daughter misses me when I am not with her (as I miss her), she is a very happy child," the actor's statement read.
Suri, he continued, "has never indicated, in words or substance, that she has ever felt abandoned by me".
Cruise's counter-claim was originally filed in October 2012, and a full $50m (£31m) defamation case was lodged last month.
The star said reports that he had abandoned his daughter were "patently untrue".
He and actress Holmes divorced in June 2012 following six years of marriage.