Jerusalem: Inspiration behind hit West End play dies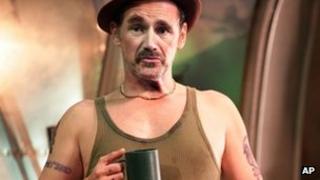 A retired builder who was the inspiration for Johnny 'Rooster' Byron, the heavy-drinking lead role in the award-winning play Jerusalem, has died.
Micky Lay, 73, collapsed outside his village pub, the Moonrakers in Pewsey, Wiltshire as he waited for it to open.
Playright Jez Butterwoth wrote the West End hit after meeting Lay when he lived in Pewsey during the 1990s.
Actor Mark Rylance starred in the role and later gave Lay the Tony Award he won for the play's Broadway production.
Rylance's relationship with Lay, who was known locally as Micky 'Doo' because of his habit of saying "I can do this" or "I can do that", did not get off to the most promising start.
The actor went to meet him before the play opened and was initially told to leave, but is believed to have made better progress when he returned a week later with a bottle of whiskey.
Rylance also won an Olivier Award for his performance as the charismatic and eccentric Rooster, drinking through St George's Day as he faces eviction from an illegal encampment.
'Village character'
Lay, a grandfather and father of four, was living in a caravan in the woods at the time Butterworth met him.
He was known among the younger drinkers in the village as "gramps", according to Moonrakers' landlord and Wiltshire councillor Jerry Kunkler.
He told The Independent that Lay had come to the pub every Friday at 16:00 GMT, but on this occasion had suffered a heart attack. He was pronounced dead at the scene after doctors were unable to revive him.
"Unfortunately he collapsed outside the pub just as I was about to open it up," said Kunkler, who described Lay as "a village character".
"He liked to have a chat with our barmaids so that's why he got in early. He was in here Boxing Day afternoon and was absolutely fine. It's such sad news."
Lay became a local celebrity after Jerusalem opened at the Royal Court in 2009, enjoying rave reviews and moving to the West End for two sold out runs before transferring to Broadway.
The rest of the Jerusalem cast had also travelled to Pewsey to meet him at the Moonrakers. Kunkler said he had emailed to inform them of the news and expected many of them would attend the funeral.
'Very generous'
Rylance said he had based the voice and rhythms of Rooster's speech on Lay.
"He was very generous with me and invited me into his house and talked with me for six hours or so on different occasions about his life as a Romany Gypsy man in England," Rylance told Broadway.com after deciding to give Lay his Tony Award.
"And I think without those interviews I wouldn't have found such a thing."
During an interview with The Independent two years ago, Lay said that his own life had not changed much following the play.
"I still do what I want to do, I just take life as it comes," said Lay.
"If someone wants to give me a Tony Award, fair play to them. I suspect it's the only Tony in Wiltshire."