Which films are chasing Bafta glory?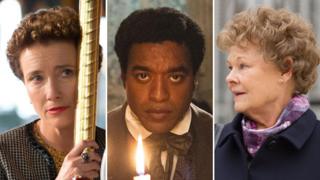 Who might make the final cut when this year's Bafta film nominations are revealed on Wednesday morning?
If previous years are anything to go by, Hollywood heavyweights will rub shoulders with the cream of British talent on the Bafta red carpet at the Royal Opera House next month.
Likely to appear among the nominees in the best film category are space thriller Gravity and harrowing drama 12 Years a Slave, both of which have featured heavily on awards tipsheets for several months.
"The lovely thing about Gravity," says film critic Mark Kermode, "is that it has Hollywood stars Sandra Bullock and George Clooney and is directed by Alfonso Cuaron, but it relies on British talent. It was shot at Shepperton and Pinewood and the extraordinary effects work was done by Framestore, a London company.
"You can think of it as a very British movie."
Other best film hopefuls include Saving Mr Banks, about the making of Disney's Mary Poppins, Somali piracy thriller Captain Phillips, and Philomena, based on the true story of an Irish woman trying to find the son she was forced to give up for adoption.
Some 275 films have been entered this year for consideration by more than 6,500 Bafta members. The first round of voting closed last Friday, and the second round commences once the nominations are announced.
This year, there will be six - rather than five - nominations for outstanding British film. The trophy was taken last year by the James Bond film Skyfall.
It would be a surprise if Stephen Frears' Philomena, starring Dame Judi Dench, didn't appear on this shortlist, and other contenders could include Gravity and Saving Mr Banks, both of which qualify as British films.
American film producer Harvey Weinstein, who is promoting Philomena on this year's awards circuit, says he expects the film to get a nomination, but worries that Frears may miss out in the director category because the film's "not as flashy" as some others.
Frears, previously Bafta-nominated for Dangerous Liaisons and The Queen, "is one of England's greatest directors," says Weinstein. "He deserves to be recognised."
The Hollywood producer adds it's been "a fabulous year for British movies" with the release of Philomena, Mandela: Long Walk to Freedom [both Weinstein films], 12 Years a Slave and Saving Mr Banks.
But with a short voting cycle this year, he says Bafta's members will not have time to see all the eligible films, meaning critics "will have more influence".
"My hope is that Bafta and the Academy discover the gems themselves and they don't have a kneejerk reaction to the critics," he adds.
'Great diversity'
Unusually, because of their release dates, both the 2012 and 2013 winners of best film at the British Independent Film Awards are eligible for the 2014 Baftas.
Broken (2012), a hard-hitting drama starring Tim Roth and Rory Kinnear, and directed by National Theatre boss-in-waiting Rufus Norris, could find itself up against recent winner Metro Manila, a crime thriller set in the Philippines, directed by Sean Ellis.
Other independent films that could make the cut include Dexter Fletcher's romantic musical Sunshine on Leith, featuring the songs of The Proclaimers; and Filth, which stars James McAvoy as a corrupt police officer.
Kermode has hopes for The Selfish Giant, Clio Barnard's story of two young boys growing up in an underprivileged town in Yorkshire, which he describes as "a really terrific piece of work".
His own favourite film of 2013 was Good Vibrations, the story of Terri Hooley, Northern Ireland's punk godfather, who opened up a record shop in the midst of the "troubles" in 1970s Belfast.
"It would be nice to see that nominated but I don't think it got seen by as many people as it ought to have done," says Kermode.
Also submitted for consideration as outstanding British film are motor racing drama Rush; vampire fantasy Byzantium; Mandela: Long Walk to Freedom; the yet-to-be-released dance comedy Cuban Fury, starring Nick Frost and Rashida Jones; and The Invisible Woman, directed by and starring Ralph Fiennes as Charles Dickens.
In the acting categories, expect to see British stars Dame Judi Dench (Philomena) and Emma Thompson (Saving Mr Banks) up against Blue Jasmine's Cate Blanchett for best actress. And will Kate Winslet make it onto the list for her role in Labor Day?
12 Years a Slave is also likely to figure in almost all acting categories, with nods expected for Chiwetel Ejiofor (best actor), Michael Fassbender (supporting actor) and Lupita Nyong'o (best supporting actress).
Nyong'o, who was shortlisted this week for Bafta's EE Rising Star award, plays cotton picker Patsey and is at the centre of one of the film's most distressing scenes.
"It's an extraordinary performance," observes Kermode. "It's such a central role, she's arrived on screen fully formed, it's incredibly complicated material that she's dealing with - some of it's very challenging, some of it's very tender, and she does it brilliantly."
What else to watch out for? Steve Coogan might get a nomination (along with Jeff Pope) for his adapted screenplay for Philomena, based on the book by former BBC foreign correspondent Martin Sixsmith.
But will Coogan turn up in the acting categories too? He's had a busy year, playing Sixsmith opposite Dame Judi as well as the lead role in Alan Partridge: Alpha Papa, and porn baron Paul Raymond in The Look of Love.
This year will see Bafta recognising five films in the documentary category, rather than the usual three.
Among the hopefuls are The Act of Killing, Blackfish, Cutie and the Boxer and Pussy Riot - A Punk Prayer. And could Morgan Spurlock's pop doc One Direction: This Is Us also step into the Bafta spotlight?
"It's been a year of great diversity," says Kermode. "Any year where you've got the blockbusters like Gravity and then 12 Years a Slave or something like The Selfish Giant is a very good year."
The EE British Academy Film Awards take place on Sunday 16 February at the Royal Opera House in London's Covent Garden. Stephen Fry returns as host and the ceremony will be broadcast on BBC One.
The full list of nominations will be announced by actors Luke Evans and Helen McCrory at 0735 GMT on Wednesday 8 January. It will be streamed live on the Bafta website and on the BBC News website.
With additional reporting by Sarah-Jane Griffiths