Musketeers return for 21st Century audience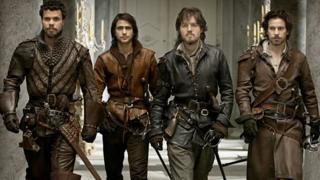 The classic tale of Alexandre Dumas' Musketeers is well-trodden ground, but a new BBC interpretation promises a modern take on the story - while still set in 17th Century Paris.
There have been numerous adaptations of the swashbuckling bodyguards of King Louis XIII - memorably the 1973 Richard Lester version starring Oliver Reed, Richard Chamberlain and Michael York.
Twenty years later saw another Hollywood version featuring Charlie Sheen, Oliver Platt and Kiefer Sutherland in the lead roles.
Then there was a 2011 offering starring Orlando Bloom, Matthew Macfadyen and Milla Jovovich which was critically panned.
Now a new 10-part series is about to hit the small screen, but with so many takes on the Musketeers already in recent memory, the show's writer says it's not going to be like anything you've seen before.
"It is a different look at a classic story," says Adrian Hodges, who also wrote the screenplay for the 2011 film My Week With Marilyn.
"The book has been adapted many times which has led us into a serial cul-de-sac. I felt in order to reinvent the show we really needed to look at it fresh again.
"The Musketeers embody a certain kind of decency - not without complication or collateral damage for other people, but at the end of the day they stand for something that's good, right and just - and that's chivalrous and romantic.
"There's always a place for that, but in 2014 you want that to be complicated and not come without baggage which is what we try to do."
The Musketeers are played on screen by Only God Forgives star Tom Burke (Athos), Heroes actor Santiago Cabrera (Aramis) and stage actor Howard Charles (Porthos), while Skins star Luke Pasqualino plays D'Artagnan.
From the outset, each Musketeer is introduced in a scene defining their character.
"Porthos is cheating, Athos is hungover and Aramis is having an affair with the Cardinal's mistress - which immediately addresses something," Cabrera explains.
The scheming Cardinal Richelieu in question is played by the new Doctor Who, Peter Capaldi, - who found out he got the part of the Time Lord while filming the drama in the Czech Republic.
D'Artagnan meanwhile, is seen driven by the loss of his father.
"He's very-hot headed and the series opens with an opportunity for revenge - it's in his nature to be that red-blooded fiery guy," Pasqualino says.
"It's not the usual fairytale Musketeers we're used to - it's not all happy endings - there is a certain element of grit to it."
In preparation for his role, Howard Charles purposely avoided watching any of the Musketeer adaptations that have come before and instead used Hodges' script as his "bible".
"I didn't want to be influenced in any way - the only thing I did do was read the novel because that was the purest source material I could find," he says.
The four main actors were also sent to musketeer bootcamp where they were put through their paces and taught how to sword fight and ride a horse.
"From the first session we were panting and sweating and egos went out the window," Charles says.
He adds the shared experience helped the four form their own camaraderie off screen, which made it easier to illustrate while the cameras were rolling.
Pasqualino admits he found the sword fighting his toughest task: "I'm a lot slimmer than Howard, Santiago and Tom, so I can't hold a big heavy sword for as long as they can which proved a bit of a challenge at times.
"We did find it very hard but we all got used to it very quickly."
As with any swashbuckling scenes, filming did not go without injury, including dislocated shoulders and concussions, while Capaldi dislocated his thumb after getting it caught in co-star Maimie McCoy's - who plays Milady - rather large frock.
"When the director said 'cut' I looked down and saw my thumb was on the wrong way round," he says.
"Instinct took over and I shoved it back which made my eyes water and my knees weak. The lesson clearly was, never get into a fight with Maimie McCoy."
Alongside the main cast is a host of guest stars appearing over the series including Jason Flemyng, Tara Fitzgerald, Ashley Walters, Vinnie Jones and Sean Pertwee.
Hodges hopes for a second season and as he's given his Musketeers more creative license, he says there are plenty more storylines to come.
"If you stick with it for all 10 episodes we take the characters in some very dangerous and dark places - all the character back stories are explored and they have different journeys to go on.
"There's a lot to explore here, which is partly why we didn't adapt the book because it would have trapped us."
And although the drama is billed as an "interpretation", rather than an "adaptation", of Dumas' 1844 work, the writer says he's not too worried about incurring the wrath of the novel's purists.
"It's clear we're not doing the book," he says.
"Dumas wasn't exactly the most faithful of historical writers either and he'd probably be saying: 'It's a drag I'm out of copyright and not earning anything from this'.
"But I think [he] is everywhere in the spirit of the show and I hope he would enjoy it."
The Musketeers is on BBC One on Sunday 19 January at 21:00 GMT.