Carole King actress Jessie Mueller wins rave reviews for Beautiful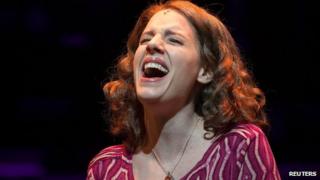 Jessie Mueller, the actress who plays singer-songwriter Carole King in a new Broadway musical, has earned rave reviews for her performance.
Mueller, 30, plays the central role in Beautiful, which charts the early life and career of King - whose hits include A Natural Woman and It's Too Late.
The Hollywood Reporter said the show, at the Stephen Sondheim Theatre, was a "tremendous showcase" for her talents.
But a lukewarm Associated Press review called the show "insipid".
"None of this is the fault of Jessie Mueller, the rising Broadway star who plays King with genuine feeling and a lovely voice," it added.
"This paint-by-numbers show would have been a whole lot better if it was just turned into a concert with Mueller singing King hits."
King, along with her then-husband Gerry Goffin, wrote hits for some of the biggest pop artists of the 1960s.
Their tracks include Will You Love Me Tomorrow?, The Loco-Motion, Take Good Care of My Baby and I'm into Something Good.
King's solo album Tapestry was one of the biggest hits of the 1970s, with such songs as It's Too Late and You've Got a Friend.
In its review, Broadway World said Beautiful might have "greater emotional impact if bookwriter Douglas McGrath focused more on how the songs of her 1971 Grammy-winning album reflected King's experiences and emotions while falling in love, getting married and becoming a mother as a teenager, only to be divorced by her mid-20s."
The shows follows in the footsteps of such hit jukebox musicals as Dreamgirls and The Jersey Boys.
The New York Times' Ben Brantley wrote: "Originality is clearly not this show's strong suit. With one very important exception.
"That's Ms Mueller, a Broadway star in waiting for several years, who here steps confidently into the VIP room of musical headliners."
The opening night show attracted stars including Phil Collins and comedian Jerry Seinfeld.
'Awkward and beatific'
USA Today's Elysa Gardner echoed the praise for Mueller, calling her performance "by turns awkward and beatific". "If only those qualities were shared by the show as a whole," she continued.
"Instead, as is often the case with such projects, Beautiful seems less concerned with exploring King's story than with using it to string together familiar tunes."
Variety's Marilyn Stasio said "The early life and career of legendary singer-songwriter Carole King surely deserves more imaginative treatment than the corny chronological storytelling."
But she added: "All is forgotten, even momentarily forgiven, whenever Jessie Mueller, in the modest person of Carole King, sits down at the piano and pours heart and soul into familiar favourites from the composer's songbook."