Golden Globes 2014: Ceremony in quotes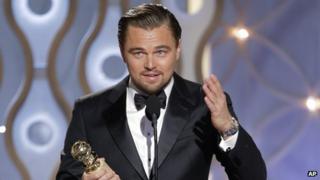 The Golden Globe awards honoured the great and good of Hollywood and television on Sunday. Here is a selection of quotes from the night.
Co-host Amy Poehler on a stellar year for films and TV
"Matt [Damon], on any other night, in any other room, you'd be a big deal. Tonight, and don't take this the wrong way, you're basically a garbage person."
Poehler on Woody Allen
"Woody Allen is the recipient of this year's Cecil B DeMille award, just a few years after Martin Scorsese won it. I assume the award is for the world's tiniest man with the biggest glasses."
Co-host Tiny Fey on Matthew McConaughey
"For his role in Dallas Buyers Club he lost 45 pounds - or what actresses call, 'being in a movie'."
Fey on The Wolf of Wall Street
"The Wolf of Wall Street shocked viewers by using the f-word 506 times in three hours, which is a new record unless you count my dad trying to hang some curtain rods in our living room."
Alfonso Cuaron, best director, to Sandra Bullock
"I want to thank you for not quitting when you thought that I have told you, 'Sandra, I'm going to give you herpes,' when what I really meant to say was, 'Sandra, I'm going to give you an earpiece.'"
Matthew McConaughey, best actor in a drama
"[Dallas Buyers Club] was turned down 86 times... I'm so glad it got passed on so many times or it wouldn't have come to me."
Cate Blanchett, best actress in a drama,
"Well, that crept up. I had a few vodkas under my belt and here we are... thank you Woody [Allen] for calling me and not one of the other incredible women in the room."
Steve McQueen, director of 12 Years a Slave
"I'm going to forget someone, I'm so sorry, I wasn't expecting this. Please hit me, hit me, hit me with the names."
Jennifer Lawrence, best supporting actress
"I don't know why it's so terrifying, it's obviously a good thing. I don't know why I'm scared, I'm sorry... sorry I'm shaking so much, don't ever do this again, it's so scary."
Amy Adams, best actress in a comedy or musical
"I always cry when I'm not supposed to, then when a director asks me to cry, I can't cry. It really sucks."
Leonardo DiCaprio to Martin Scorsese
"Thank you for allowing me to stalk you into making this movie... thank you for encouraging me to take risks."
Robin Wright, best actress in a TV drama
"Kevin [Spacey], you're the best play date ever".
Michael Douglas to co-star and fellow nominee Matt Damon
"Matt Damon - the bravest, talented actor I've ever worked with, and the only reason you're not here is because I had more sequins."
Bryan Cranston, best actor in a TV drama
"Now through this [award] and the Hollywood Foreign Press, everyone around the world will be able to share in Breaking Bad's mirth and merriment."
Spike Jonze, best screenplay
"I'm a terrible public speaker. And I'm bad at English. And it's the only language I know."