Breakfast at Tiffany's producer Richard Shepherd dies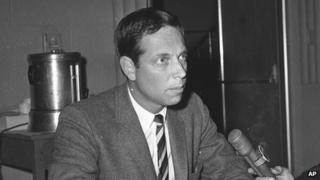 Richard Shepherd, the producer of classic Hollywood movie Breakfast at Tiffany's, has died aged 86 at his home in Los Angeles.
Shepherd spent six decades in the film business, producing a run of films including the 1961 feature starring Audrey Hepburn and George Peppard.
His later work included Robin and Marian (1976) also with Hepburn and Sean Connery.
Shepherd also set up the Artists Agency representing the interests of stars.
Marilyn Monroe, Rex Harrison, Peter Sellers and Richard Harris were among the famous faces on his books.
Shepherd is credited with rescuing one of the most memorable facets of Breakfast at Tiffany's - the theme song of Moon River, gently performed by Hepburn.
Studio executive Marty Rackin wanted to remove the song completely, but Shepherd said "over my dead body".
Henry Macini's composition went on to win the Academy Award for best song and also picked up a Grammy.
In a 2010 book about Breakfast at Tiffany's by author Sam Wasson, Shepherd was said to be a gentle and quiet force in a business that had neither of those traits.
The other films he worked on included The Fugitive Kind, starring Marlon Brando and Joanne Woodward, and 1959's The Hanging Tree, with Gary Cooper in one of his final screen appearances.
Shepherd is survived by his wife and four children from his two marriages, including Scott Shepherd, a television producer and writer whose credits include Miami Vice and The Dead Zone.