Morrissey signs deal to release two new albums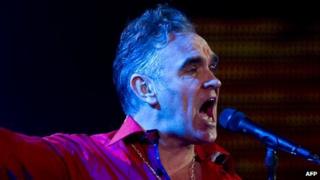 Singer Morrissey has signed a deal to release two new albums, five years since his most recent record.
The former Smiths frontman is expected to release a 10th solo studio album later this year.
The musician's deal with US-based label Harvest comes days after he took a swipe at the music business.
"The majority of people have lost faith in the music industry," he said, adding that "the majority of radio stations don't play my music".
The 54-year-old added: "It's all, now, solely a question of marketing. All success stories are safe and dreary, and you will never be taken by surprise by a hit song that sounds out of place.
"This is not just my view but the view of everyone I know," he added.
Morrissey has signed the new worldwide deal with a subsidiary of Universal, which released his 2009 record Years of Refusal.
In his autobiography, published in October, the songwriter criticised the way his album was marketed, saying the label signed him "against their will".
The "lumpen new management densely release the album during the week of illicit industry card-sharing known as the Brit Awards", he wrote.
The record made number three in the UK album chart, while singles releases failed to breach the top 20.
Three of his solo collections have topped the chart, including his 1988 debut Viva Hate, which came a year after the break-up of The Smiths.
His most recent success was The Ringleader of the Tormenters, which took the top spot in 2006.
Morrissey's life story - called Autobiography - which was published on Penguin Classics, became a best seller in the UK, staying at number one for five weeks.
He is now working on a debut novel.
Work on the new album is expected to start shortly in France with US producer Joe Chiccarelli, who has also worked with Elton John and U2.
Tour dates are expected to be announced in due course.
Record label boss Steve Barnett called Morrissey "one of music's most important and influential artists".
"He is the rare soul who has stayed consistently true to his artistic vision and ethical principles since he first exploded onto the scene in the 1980s," he added.